Open Access

Subscription Access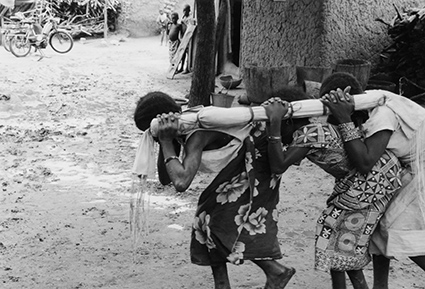 Le kolonkalanin : Une démonstration du pilon magique au Bélédougou (Mali)
Abstract
This photo-essay documents the functioning of the kolonkalanin, or "pilon magique" (magical pestle), during a demonstration of its power. One of the most important and fearsome fetishes of the Bamana people of Mali, the kolonkalanin is also featured in the film Yeelen by Souleymane Cissé (1987). The analogic photographs of this reportage have been taken in a village of Bélédougu, where I came back in 1999 to meet once again the soma (great initiate), Keifa Diarra. Keifa Diarra himself wanted me to assist at the demonstration, to take pictures of it, and to record his words.
Keywords
Bamana; Mali; Beledugu; Kolonkalanin; Magical pestle
Full Text:
PDF
PHOTO-ESSAY

DOI:
http://dx.doi.org/10.12835/ve2015.2-0055
Refbacks
There are currently no refbacks.
ISSN Print 2499-9288
ISSN Online 2281-1605
Publisher Edizioni Museo Pasqualino
Patronage University of Basilicata, Italy
Web Salvo Leo
Periodico registrato presso il Tribunale di Matera, numero di registrazione 2/2014