Open Access

Subscription Access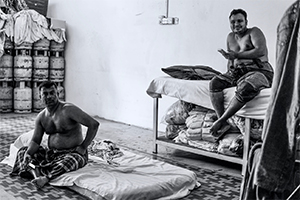 Border/Less
Abstract
The Border/less photo essay is a collective work that scrutinises the daily routine of the marginalised foreign workforce in Malaysia. It investigates the foreign workers from various neighbouring countries who seek to greener pastures. From domestic helpers to construction site workers, these workers form the third-largest community in Malaysia. People are people, they are just ordinary folks that work diligently in laboured work, fuelled by dreams of a better life back home in their countries. However, the plight of life never leaves them, they are not only had to endure the life without their loved ones, but also seem so out of place in the eyes of the locals. The term "foreign worker" always connotes to negative and derogatory sense. Through the interactions with these "best known strangers", we hope to ease the invisible border between "us" and "them" and if possible, breakdown the stereotype that deeply rooted in our mind.
Keywords
Visual narrative, Foreign Workforce; Marginalised Group; Border; Stereotype
Full Text:
PDF

Refbacks
There are currently no refbacks.
ISSN Print 2499-9288
ISSN Online 2281-1605
Publisher Altrimedia Edizioni
Patronage University of Basilicata, Italy
Web Leonardo Di Benedetto
Periodico registrato presso il Tribunale di Matera, numero di registrazione 2/2014