Open Access

Subscription Access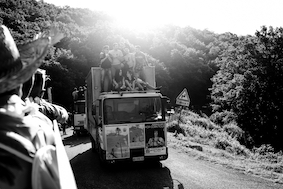 Vernacular imaginary, forms of visual memory, elicitation and aesthetic community in an ethnographic research
Abstract
In these pages, I propose a visual reflection in which, by listening to the voices of the protagonists of an ethnographic research, we witness the evocation of images and visions that will allow us to enter into synergy with the vernacular imaginary that becomes a projection of the place of self and community.
The privileged object of the investigation was the cultural category of the depopulation, above all in the areas of investigation which, taking into account the variables that determine it, made it possible to reflect on the culturally constructed nature of the territory, space, place and movement also thanks to the tools of investigation and detection of experience such as 'map-elicitation', 'photo-elicitation', 'place-elicitation'.
Keywords
Vernacular imaginary; vernacular memory; depopulation; photo-elicitation
Full Text:
PDF

DOI:
http://dx.doi.org/10.12835/ve2022.2-118
Refbacks
There are currently no refbacks.
ISSN Print 2499-9288
ISSN Online 2281-1605
Publisher Edizioni Museo Pasqualino
Patronage University of Basilicata, Italy
Web Salvo Leo
Periodico registrato presso il Tribunale di Palermo con numero di registrazione 1/2023