Open Access

Subscription Access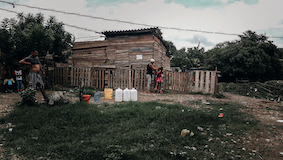 Amoebas: Socio-territorial metamorphosis in venezuelan migrants' neighborhood. The case of Villa Caracas in Barranquilla (Colombia)
Abstract
Is Villa Caracas a neighborhood? For Colombian neighbors, this settlement of Venezuelan migrants in Barranquilla is a "no place". For the ancient residents, this locality is just a deplorable shantytown that invaded a clay territory. However, the inhabitants do their best to transform their shacks into a home, the quagmire into streets with an even urban sense. This photo-essay emerged from an ethnographic investigation. This study wants to capture the daily socio-territorial metamorphosis through which this space is transformed into a neighborhood, even if it only exists in the imagination and in images.
Keywords
Caribbean Studies, Suburban Culture, South-South Migrations, Trans-peripheralism, Colombian Internal Armed Conflict, Lived Politics, amphibian cultures.
Full Text:
PDF

DOI:
http://dx.doi.org/10.12835/ve2022.2-116
Refbacks
There are currently no refbacks.
ISSN Print 2499-9288
ISSN Online 2281-1605
Publisher Edizioni Museo Pasqualino
Patronage University of Basilicata, Italy
Web Salvo Leo
Periodico registrato presso il Tribunale di Palermo con numero di registrazione 1/2023