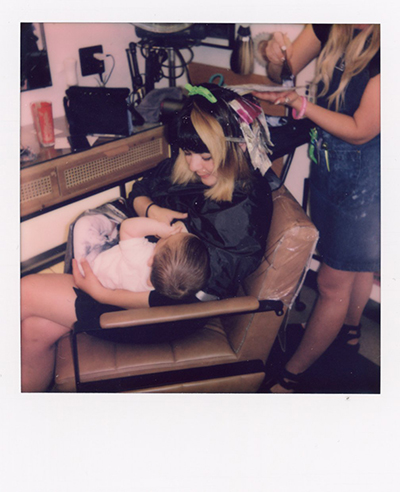 Mama-ing
Abstract
This collaborative photo essay follows an auto-ethnographic methodology to reflect and reject the shaming of nursing bodies in public. Polaroids are used as a medium to capture everyday life situations between a mother and a son, where sexualization has simply no place to be.
Keywords
auto-ethnography; nursing; public space; polaroid; visual archive
References
BARTICK, Melissa - REINHOLD, Arnold
The Burden of Suboptimal Breastfeeding in the United States: a pediatric cost analysis. Pediatrics 125 (5): e1048-1056.
https://doi.org/10.1542/peds.2009-1616.
BENTLEY, Amy
Inventing Baby Food: Taste, Health, and the Industrialization of the American Diet. Vol. 51. University of California
Press.
"Breastfeeding in Public Is Now Legal in All 50 US States." n.d. Global Citizen. Accessed September 15,
https://www.globalcitizen.org/en/content/public-breastfeeding-is-now-legal-in-all-50-states/.
CENTERS FOR DISEASE CONTROL AND PREVENTION -CDC
Why It Matters. Centers for Disease Control and Prevention. August 23, 2021.
https://www.cdc.gov/breastfeeding/about-breastfeeding/why-it-matters.html.
"Get an 'Instant' History of How Polaroid Revolutionized Photography."
My Modern Met (blog). June 15, 2020. https://mymodernmet.com/history-of-polaroid/.
HALLER, Sonja.
Finally! In 2018 It's Legal to Breastfeed in Public in All 50 States. USA TODAY. Accessed September 15, 2021.
https://www.usatoday. com/story/life/allthemoms/2018/07/25/public-breastfeeding-now-legal-all-50-
states/835372002/.
WELTER, Barbara.
The Cult of True Womanhood: 1820-1860. American Quarterly 18 (2): 151–74.
https://doi.org/10.2307/2711179
Refbacks
There are currently no refbacks.
ISSN Print 2499-9288
ISSN Online 2281-1605
Publisher Edizioni Museo Pasqualino
Patronage University of Basilicata, Italy
Web Salvo Leo
Periodico registrato presso il Tribunale di Palermo con numero di registrazione 1/2023