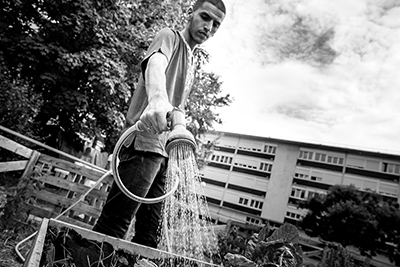 "Ici on sème": a Photographic Depiction of Urban Gardening in a Banlieue
Abstract
Based on a photo-ethnography of gardening practices, this visual essay explores how photographs might be used to critically depict the gardening experience of a community project in a French banlieue. By situating the representations of people, spaces, and interactions I reflexively portrayed the experiences of the urban gardeners through engaged photographic activities. Concerned with the plastic and iconic representation of the local community, this photo essay brings the viewer into the sensitive environment of urban gardening.
Keywords
Photography; ethnography; urban; representation; arts; aesthetics; gardening; France; banlieue; space
References
BOURGOIS, Philippe - SCHONBERG, Jeff
Righteous dopefiend. Berkeley: University of California Press.
CANTEUX, Camille
Sarcelles, ville rêvée, ville introuvable. Sociétés & Représentations 17 (1): 343.
CEFAÏ, Daniel
L'engagement ethnographique. Paris: Éditions de l'École des Hautes Études en Sciences Sociales.
DESJARLAIS, Robert R.
The Blind Man: A Phantasmography. New York: Fordham University Press.
FATTAL, Alex
Shooting Cameras for Peace: Youth, Photography, and the Colombian Armed Conflict. Cambridge: Peabody Museum
Press.
LEON-QUIJANO, Camilo
L'engagement photographique: l'expérience dans la création d'un récit urbain. In Artistes et Anthropologues dans la
Cité. Engagements, Co-créations, Parcours. Paris: L'Harmattan.
Fabriquer la communauté imagée : une ethnographie visuelle à Sarcelles. Thèse de doctorat, Paris: EHESS.
The Performative Photograph: A Poietic Approach to Visual Ethnography in a French Banlieue. HAU: Journal of
Ethnographic Theory. 11.(3). pp. 1116-1135. https://doi.org/10.1086/718000
MASSEY, Doreen
For Space. London ; Thousand Oaks: SAGE.
PINK, Sarah
Doing Visual Ethnography. 3e Ed. Los Angeles: SAGE.
ROTH, Catherine,
Textes et images du grand ensemble de Sarcelles 1954-1976. 10. Sarcelles: Communauté d'Agglomération Val
de France
Refbacks
There are currently no refbacks.
ISSN Print 2499-9288
ISSN Online 2281-1605
Publisher Edizioni Museo Pasqualino
Patronage University of Basilicata, Italy
Web Salvo Leo
Periodico registrato presso il Tribunale di Palermo con numero di registrazione 1/2023