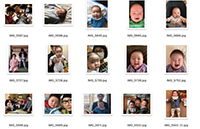 Visualising Rapid Life Transitions: Ethnographic Documentary Filmmaking Through Smartphone-Based Collaborative Research
Abstract
Many Japanese individuals fall victim to the disease of cancer, making it the most common cause of death in Japan. The second author Mizuno's wife, Mie was diagnosed with stomach cancer in May 2017, just before the delivery of their first child. She passed away three months after their son's first birthday. Mie's loss made Mizuno a widower and a single father. Up until then, the life transitions of family caregivers who became young widowers during the infant-care period were scarcely documented in academic studies in Japan. Mizuno had started to record himself and his family's life using his smartphone camera almost every day ever since he was informed of Mie's cancer. From June 2018, he started a collaborative research with the first author Ohashi to understand and express the rapid and unpredictable changes of his family's lifeworld. The authors began to share diaries and visual images generated with his smartphone and arranged to have weekly online interview sessions to collaboratively reflect on the files. Eventually, the authors made an ethnographic documentary film to express the rapid life transitions experienced by Mizuno. In this paper, the process of how the authors applied multiple methodologies to develop the research project will be reflected and described. Secondly, the characteristics of the visual images recorded on Mizuno's smartphone during the project will be analysed. Thirdly, the findings and implications of visualising the experience of life transitions as a family caregiver will be elaborated. Lastly, the authors will discuss how we can understand and visualise the life transitions experienced by family caregivers, given that smartphones are a part of everyday life for many people nowadays.
Keywords
Life transitions; family caregiver; design research; visual ethnography, mobile methods; smartphone; documentary filmmaking
References
BANKS, Marcus
Using Visual Data in Qualitative Research. London: Sage Publications.
BÜSCHER, Monika – URRY, John – WITCHGER, Katian (eds)
Mobile Methods. New York: Routledge.
CAOUETTE, Jonathan
Tarnation. Produced by Jonathan Caouette and Stephen Winter. 91 min. United States.
CYBER AGENT, INC.
Press Release (September, 13-2019) . Accessed online, August, 29-2021:
https://www.cyberagent.co.jp/news/detail/id=23617
CYBER AGENT, INC.
Ameba Official Genre. Accessed online, August, 29-2021:
https://blogger.ameba.jp/
GAVER, William - DUNNE, Anthony - PACENTI, Elena
Design: Cultural Probes. Interactions (6): 21-29.
HALDRUP, Michael
Choreographies of leisure mobilities. In Mobile Methods. Monika Büscher, John Urry and Katian Witchger
(eds). New York: Routledge. Pp. 54-69.
JIRÓN, Paola
On becoming 'la sombra/the shadow'. In Mobile Methods. Monika Büscher, John Urry and Katian
Witchger (eds). New York: Routledge. Pp. 36-51.
KONDO, Makiko – SATO, Reiko
Sufferings of Middle-aged Men with Minor Children Who Have Lost Their Spouses to Cancer. Journal of
Chiba Academy of Nursing Science, 13(1): 94-101.
LANGMANN, Sten – PICK, David
Dignity and ethics in research photography. International Journal of Social Research Methodology, 17(6):
-721.
LEE, Kyoung won
Divorce and Bereavement with Spouse and the Actual Conditions of Children's Lives. Journal of Social
Security Research, 4(1): 4-19.
MATSUSHITA, Toshiko – NOGUCHI, Wataru – KOBAYASHI, Mika – MATSUDA, Ayako -
MATSUSHIMA, Eisuke
The Psychological Burden and Care/support for the Family Members of Cancer Patients: An investigation
through an Internet survey. Japanese Journal of General Hospital Psychiatry, 22(4): 373-382.
MCNIFF, Shaun
Using Digital Media in Art-Based Research. In The Handbook of Art Therapy and Digital Technology.
Cathy Malchiodi (ed). London: Jessica Kingsley Publishers. Pp. 332-345.
MINISTRY OF HEALTH, LABOUR AND WELFARE, Japan
Nationwide Survey on Single Parent Households,v Accessed online, December, 29-2019:
https://www.mhlw.go.jp/file/04-Houdouhappyou-11923000-KodomokateikyokuKateifukishika/0000188136.pdf
MINISTRY OF HEALTH, LABOUR AND WELFARE, Japan
Vital Statistics, Accessed online, December, 29-2019:
https://www.mhlw.go.jp/toukei/saikin/hw/jinkou/geppo/nengai18/dl/gaikyou30.pdf
MINISTRY OF JUSTICE, Japan
Child Welfare Act. Accessed online, December, 29-2019:
http://www.japaneselawtranslation.go.jp/law/detail/?id=11&vm=04&re=01&new=1
MUTA, Reiko
Development of a support guide for families of terminally ill cancer patients and verification of its usefulness
for nurses in general wards (The original title is in Japanese). Accessed online, August, 29-2021:
https://ir.lib.hiroshimau.ac.jp/ja/list/doctoral_thesis/%E5%8D%9A%E5%A3%AB(%E7%9C%8B%E8%AD%B7%E5%AD%A6)/
item/32025
NATIONAL CANCER CENTER JAPAN
Latest Cancer Statistics. Available, Accessed online, December, 29-2019:
https://ganjoho.jp/reg_stat/statistics/stat/summary.html
NATIONAL COUNCIL OF HOMES FOR INFANTS JAPAN
About Infant homes. Accessed online, December, 29-2019:
https://nyujiin.gr.jp/about/
NORMAN, Donald – DRAPER, Stephen (eds)
User Centered System Design: New Perspectives on Human-computer Interaction. CRC Press.
ONISHI, Hideki
Intervention and Psychological Care for the Family Caregivers of Cancer Patients. Psychiatria et neurologia
Japonica , 111(1): 79-84.
PARDO, Rebeca - MORCATE Montse
Illness, death and grief: the daily experience of viewing and sharing digital images. In Digital Photography
and Everyday Life: Empirical Studies on Material Visual Practices. Edgar Gomez Cruz and Asko
Lehmuskallio (eds). Routledge. Pp. 70-84.
PINK, Sarah
Doing Visual Ethnography THIRD EDITION. London: Sage Publications.
RAIJMAKERS, Bas – GAVER, William – BISHAY, Jon
Design documentaries: Inspiring design research through documentary film. Proceedings of the Conference
on Designing Interactive Systems: Processes, Practices, Methods, and Techniques, DIS. 2006: 229-238.
SAWAI, Atsushi
'Tabooed Death' Revisited. Japanese sociological review, 53(1): 118-134.
SEGELSTRÖM, Fabian – HOLMLID, Stefan
One Case, Three Ethnographic Styles: Exploring different ethnographic approaches to the same broad brief.
Ethnographic Praxis in Industry Conference Proceedings 2012: 48-62.
SHIRAKAWA, Ayumi
A Literature Review about the Psychosocial Influence of the Widowers after the Bereavement in Japan.
Journal of Japan Academy of Community Health Nursing, 18(1): 102-109.
URRY, John
Mobilities. Cambridge: Polity Press
Refbacks
There are currently no refbacks.
ISSN Print 2499-9288
ISSN Online 2281-1605
Publisher Edizioni Museo Pasqualino
Patronage University of Basilicata, Italy
Web Salvo Leo
Periodico registrato presso il Tribunale di Palermo con numero di registrazione 1/2023