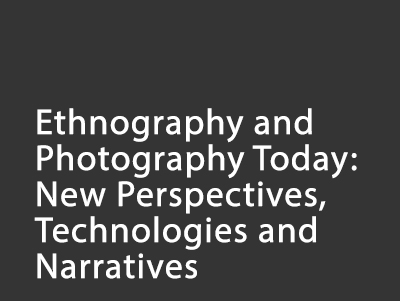 Ethnography and Photography Today: New Perspectives, Technologies and Narratives
Abstract
Ethnography and photography are relational practices configured as two forms of writing with their own specificities that intersect. Considering the profound technological changes in the recent decades and the crisis of ethnographic authority and photographic representation, the attempt of this special issue is to generate an overview of the plurality of theoretical and methodological approaches relating to the use and production of images in social research.
Keywords
Photography; ethnography; visual ethnography; social research; collaborative ethnography; visual research; images; visual methods.
References
APPADURAI, Arjun
Modernity at Large: Cultural Dimensions of Globalization. Minneapolis: University of Minnesota Press.
Archive and aspiration. Information Is Alive: Art and Theory on Archiving and Retrieving Data. Rotterdam, NAI
Publishers: 14-25.
AZOULAY, Ariella,
Civil Imagination: political ontology of photography. London-New York: Verso.
BOURGOIS Philippe - SCHONBERG Jeff
Righteous dopefiend. An Ethnography of Homeless Heroin Users. Berkeley: University of California Press.
CLIFFORD, James
On Ethnographic Authority Representations, N.2. University of California Press. (Spring, 1983): 118-146.
COLLIER, John Jr. - COLLIER, Malcolm
Visual Anthropology: Photography as a Research Method. Albuquerque: University of New Mexico Press.
CREHAN, Kate
Community Art. An Anthropological Perspective. London: Berg Publishers
FAVERO, Paolo
The Present Image. Visible Stories in a Digital Habitat. Basingstoke. Palgrave: MacMillan.
FONTCUBERTA, Joan
La furia de las imagenes. ́ Notas sobre la postfotografía. Barcelona: Galaxia Gutenberg S.L.
HORST, Heather - MILLER, Daniel (eds.)
Digital anthropology. London: Berg.
LARSEN, Jonas - SANDBYE, Mette
Digital Snaps. The new face of Photography. London: Routledge.
MITCHELL, William J.
, The reconfigured eye: visual truth in the post-photographic era, Cambridge: The MIT Press.
PAUWELS, Luc
Reframing Visual Social Science. Towards a more visual sociology and anthropology. Cambridge: Cambridge University
Press.
PINK, Sarah (ed)
Visual Interventions. Applied Visual Anthropology. New York: Berghahn.
PINK, Sarah
Doing Visual Ethnography. London: Sage.
"Foreword". In Froemming, Urte Undine - Koehn, Steffen - Fox, Samantha - Terry, Mike. (Eds.), Digital
Environments. Ethnographic Perspectives across global Online and Offline Spaces. Bielefeld: Transcript : 9-13.
"Digital visual anthropology: Potentials and challenges". In Banks, Marcus - Ruby, Jay (Eds.), Made to be seen:
Perspectives on the history of visual anthropology. Chicago: The University of Chicago Press: 209-233.
PINK, Sarah - HORST, Heather - POSTILL, Jokn - HJORTH, Larissa - LEWIS, Tania -TACCHI Jo.
Digital ethnography: principles and practice. Thousand Oaks, CA: Sage
Refbacks
There are currently no refbacks.
ISSN Print 2499-9288
ISSN Online 2281-1605
Publisher Edizioni Museo Pasqualino
Patronage University of Basilicata, Italy
Web Salvo Leo
Periodico registrato presso il Tribunale di Palermo con numero di registrazione 1/2023