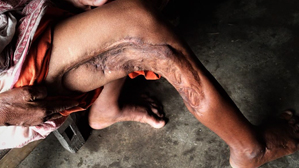 The Kamot Ganga Puja: Sharks of Sundarban
Abstract
There are innumerable undocumented shark (locally called Kamot) bite incidents on the women of Sundarban, but there is no artistic or cultural portrayal of sharks of the region in any form. This lack of representation creates lack of knowledge about this conflict -- and its effects on the women as well as the sharks. In an effort
to remedy this situation, a unique Ganga Debi puja was held in the Sundarbans, where a shark was created as her vahana, and with a girl child of the Sundarbans on her lap. This is a narrative documentation of that puja, it's reasons and effects, and the day leading up to it.
Keywords
Sundarban sharks; Idol worship; Human-animal conflict; Anthrozoology; Human-shark relations; Multispecies ethnography
Refbacks
There are currently no refbacks.
ISSN Print 2499-9288
ISSN Online 2281-1605
Publisher Edizioni Museo Pasqualino
Patronage University of Basilicata, Italy
Web Salvo Leo
Periodico registrato presso il Tribunale di Matera, numero di registrazione 2/2014