Open Access

Subscription Access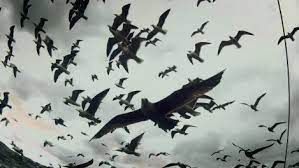 Leviathan. Enaction and Ontological Unconscious in an Ethnographic Film that Challenges Anthropology
Abstract
After reviewing the main interpretations of the film Leviathan by Lucien Castaing Taylor and Véréna Paravel, most of which are based on the concept of "immersivity", Francesco Marano proposes to see the film as an
example of enactive style and to contextualize the film in the recent "ontological turn" of anthropology. In this way Marano tries to bring the film back into the ethnographic genre from which some authors have ousted it,
asking anthropology to expand its boundaries rather than strengthen them.
Keywords
Leviathan; Ethnographic film; Ontological turn; Immersivity; Anthropology
Full Text:
PDF

References
BENJAMIN, Walter
"Strada a senso unico", ed. or. 1926, in Opere complete. Scritti 1923-1927, Torino, Einaudi.
Aura e choc. Saggi sulla teoria dei media, a cura di Andrea Pinotti e Antonio Somaini, Torino, Einaudi.
BRATU HANSEN, Miriam
"Benjamin and Cinema: Not a One-Way Street", in Critical Inquiry, Winter, 1999, Vol. 25, No. 2, "Angelus Novus": Perspectives on Walter Benjamin (Winter, 1999), pp. 306-343.
CASTAING-TAYLOR, Lucien – PARAVEL, Verena
The Wordless Sea: An Interview with Directors Lucien Castaing-Taylor and Véréna Paravel. By Jason Ward.Ohcomely (blog). http://www.ohcomely.co.uk/blog/799.
CINI, Marcello
"La trama che connette", in Plurimondi, I, 1.
DESCOLA, Philippe
Par-de-là de nature et culture, Paris, Gallimard.
DOUGLAS, Mary
Purity and Danger: An Anthropological Analysis of the Concepts of Pollution and Taboo, London, Routledge.
FAVERO, Paolo S. H.
The Present Image. Visible Stories in a Digital Habitat, Cham, Switzerland, Palgrave Macmillan.
GENDLIN, Eugene T.
"Comment on Thomas Fuchs. The time of the explicating process", in Koch, Sabine C. - Fuchs, Thomas - Summa, Michela and Müller, Cornelia (eds), Body Memory, Metaphor and Movement, Amsterdam, John Benjamins Publishing, pp. 73-82.
GIBSON, James
The senses considered as perceptual systems, London, Cornell University.
GRASSENI, Cristina
Skilled Visions: Between Apprenticeship and Standards, New Yoork-Oxford, Berghahn Books
JAREMKO-GREENWOLD, Anya
"Véréna Paravel & Lucien Castaing Taylor" [interview]. BOMB—Artists in Conversation.http://bombmagazine.org/article/7084/v-r-na-paravel-and-luciencastaing-taylor
HENLEY, Paul
Beyond Observation. A History of Authorship in Ethnographic Film, Manchester, Manchester University Press.
INGOLD, Tim
Anthropology. Why it matters? Cambridge, Polity Press.
KOHN, Eduardo
"Anthropology of Ontologies", in Annual Review of Anthropology, n. 44, pp. 311-327.
LANDESMAN, Ohad
"Here, There, and Everywhere: Leviathan and the Digital Future of Observational Ethnography", Visual Anthropology Review, Volume31, Issue1, pp. 12-19
MACDONALD, Scott
The Sublimity of Document. Cinema as Diorama, Oxford, Oxford University Press.
MANCUSO, Alessandro
"Antropologia, 'svolta ontologica', politica. Descola, Latour, Viveiros de Castro", in Archivio Antropologico del Mediterraneo, n. 18, 2, pp. 97-132.
MARANO, Francesco
Camera etnografica. Storie e teorie di antropologia visuale, Milano, Franco Angeli.
MERLEAU-PONTY, Maurice
L'oeil et l'ésprit, Paris, Gallimard
PAVSEK, Christopher
"Leviathan and the Experience of Sensory Ethnography", in Visual Anthropology Review, Volume 31, Issue 1, pp. 4-11
PINNEY, Christopher
"Acqueous Modernism", in Visual Anthropology Review, Vol. 31, 1, pp. 35-40.
ROSE, Mandy
"The immersive turn: hype and hope in the emergence of virtual reality as a nonfiction platform", in Studies in Documentary Film, vol. 12, n. 2, pp. 132-149.
RUYER, Raymond
Néo-Finalisme. Paris: Presses Universitaires de France.
RUSSEL, Catherine
"Leviathan and the Discourse of Sensory Ethnography: Spleen et ideal", in Visual Anthropology Review, Volume 31, Issue 1, pp. 27-34
SILVERMAN, Kaja
Flesh of My Flesh, Stanford, CA, Stanford University Press.
SNYDER, Hunter
"Leviathan", in Visual Anthropology Review, Vol. 31, 1, pp. 176-179.
SOBCHACK, Vivian Carol
Carnal Thoughts: Embodiment and Moving Image Culture, Berkeley, University of California Press.
STEVENSON, Lisa – KOHN, Eduardo
"Leviathan: An Ethnographic Dream", in Visual Anthropology Review, Vol. 31, 1, pp. 49-53.
THAIN, Alanna
"A Bird's-Eye View of Leviathan", in Visual Anthropology Review, Vol. 31, 1, pp. 41-48.
VARELA F., THOMPSON E., ROSCH E.
The Embodied Mind, revised edition, Cambridge, MIT Press (ed. Or. 1991).
Refbacks
There are currently no refbacks.
ISSN Print 2499-9288
ISSN Online 2281-1605
Publisher Altrimedia Edizioni
Patronage University of Basilicata, Italy
Web Leonardo Di Benedetto
Periodico registrato presso il Tribunale di Matera, numero di registrazione 2/2014