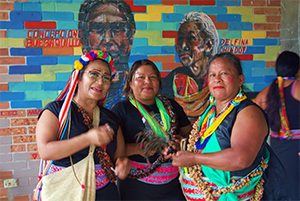 Karrustulinda: a reflexive approach to the carnival of forgiveness
Abstract
As usual, every year, during the days before Ash Wednesday, the Karrustulinda is celebrated. This carnival integrates the indigenous people of Putumayo (Colombia) around forgiveness and gratitude to the Pachamama for her fertility. The Inga and Kamëntsá peoples sing in their languages, accompanied by percussion and wind instruments, while visiting the Mocoa cabildos and other institutions, where the festivity is concentrated. This photo-essay focuses on this secular tradition, in its 2020 version, from a walk-through moments and scenarios in which the also called Carnival of Forgiveness takes place.
Keywords
Inga; Kamëntsá; carnival of forgiveness; cultural heritage; Putumayo; participant objectivation; visual culture; Colombia
References
BONFIL BATALLA, Guillermo
Pensar nuestra cultura, ensayos. México: Alianza Editorial.
BOURDIEU, Pierre
Un arte medio. Ensayo sobre los usos sociales de la fotografía. Barcelona: Gustavo Gili.
La objetivación participante. Apuntes de Investigación del CECYP 9(10): 87-101.
CAMPOS, Ricardo
Imagem e tecnologias visuais em pesquisa social: tendências e desafios. Análise Social XLVI(199): 237-259.
DIETRICH, Martha-Cecilia
Poetic Visuality. An Essay on the Carceral Experience. Visual Ethnography 8 (2).
https://doi.org/10.12835/ve2018.1-0132
GOPI, Anil
Creating Pantheon-Nature, Colours and Beliefs: A Visual Narrative of Kaliyattam in Kerala. 9 (1): 21.
LEON-QUIJANO, Camilo
Visual Ethnography: Tools, Archives and Research Methods. Introduction. Visual Ethnography 6 (1): 7-17.
https://doi.org/10.12835/ve2017.1-0073
LOPEZ YUSTE, Maria
Telling about the other. Identity, narratives and the limits of the photographic medium. Visual Ethnography
(2): 1-20.
MARANO, Francesco
The Three Cities of Beijing. Visual Ethnography 7 (1):123-135.
https://doi.org/10.12835/ve2018.1-0106
MARINI, G.
Altars, Statues, Murals: 'Religious' Visualities Of Primary Schools in Santiago de Chile. Visual Ethnography
(1): 159-169.
QUIÑONES TRIANA, Yago
Bëtsknaté, el carnaval del perdón del pueblo Kamëntsá. Interpretaciones sobre el contacto y la
transformación cultural entre historia y mito. Maguaré 33 (1): 109-138.
https://doi.org/10.15446/mag.v33
Refbacks
There are currently no refbacks.
ISSN Print 2499-9288
ISSN Online 2281-1605
Publisher Edizioni Museo Pasqualino
Patronage University of Basilicata, Italy
Web Salvo Leo
Periodico registrato presso il Tribunale di Palermo con numero di registrazione 1/2023