Open Access

Subscription Access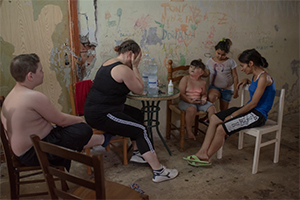 Motel Agip
Abstract
We are in Secondigliano, in an Agip motel, a building occupied by dozens of Neapolitan families about 18 years ago. Already in 2014, the gravity of this reality was publicly denounced and today, after some time, the
situation seems to have worsened. Many families still live in the former motel in inhumane conditions: between walled up rooms, mice, waste and unacceptable sanitary conditions. The basements of the building are infested with mice and due to the rupture of some sewer pipes, the rooms have turned into a huge cloaca. They are families on the list for years for a municipal house, families cleared of the sails of Scampia that have not yet
received an effective response to the promises of a better housing solution. Women, children, families, elderly mpeople in serious health conditions, these are the inhabitants of the motel, people who resist despite the degradation in which they are forced to live. I lived with them to tell their story from within, I met all the tenants of this extravagant motel, I tasted their strength, valued their dignity, thanked them for their generosity.
They are a large family that supports itself, that helps itself, protects itself, a large house that welcomes those who cannot live in full autonomy, without making distinctions of color, sex, age, origin. A great example of
hospitality albeit a paradox. It is a story because there are people, there are stories, but it is a denunciation because no human being should be deprived of fundamental rights, such as a house, a shelter, regardless of
economic differences.
Keywords
photojournalism; liminal space; occupation; home; border; suburbs; Secondigliano; Naples
Full Text:
PDF

Refbacks
There are currently no refbacks.
ISSN Print 2499-9288
ISSN Online 2281-1605
Publisher Altrimedia Edizioni
Patronage University of Basilicata, Italy
Web Leonardo Di Benedetto
Periodico registrato presso il Tribunale di Matera, numero di registrazione 2/2014