Open Access

Subscription Access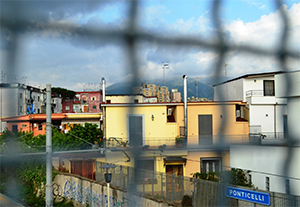 Ponticelli. The unexpected
Abstract
Waiting for the train at a small station of the circumvesuviana train line in the outskirts of a city, waiting
in a courtyard transformed by time in new urban architectures, waiting in the large buildings of the council
housing, waiting at the railway station in the city center. Places that cross the metropolitan spaces,
characterizing them with their forms and hosting lives in transit which adapt themselves to the places
where they lived. Ponticelli, the eastern outskirts of Naples, is a difficult neighborhood because of the
stagnant economy, rich in history and traditions is tight between the status of outskirts and a strong will
to emerge. In-attese is a photographic work carried out in parallel with an ethnographic study for about
eighteen months. The photographs here presented show symptomatic places of the urban and social
transformations that have taken place from the post-war period to the present day and portray forms of
cultural persistence that create social cohesion in an existential coexistence that characterizes the face of
the neighborhood.
Keywords
Ponticelli; Naples; circumvesuviana; courtyards; waiting time; expectation; outskirts
Full Text:
PDF

DOI:
http://dx.doi.org/10.12835/ve2019.1-0148
Refbacks
There are currently no refbacks.
ISSN Print 2499-9288
ISSN Online 2281-1605
Publisher Altrimedia Edizioni
Patronage University of Basilicata, Italy
Web Leonardo Di Benedetto
Periodico registrato presso il Tribunale di Matera, numero di registrazione 2/2014