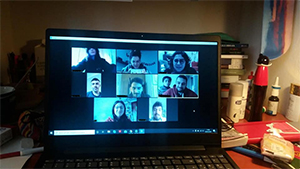 New domestic landscapes: a collaborative autoethnography in times of Coronavirus in Italy
Abstract
In this article we present the results of research on transformations of everyday domestic life during the first Italian coronavirus lockdown.
Covid-19 has shaken many of our convictions; it has "suspended time," forcing us to live in a condition of uncertainty. People have had to re-think their priorities and the ways they live in and use domestic space, managing a relationship of power and agency between themselves and the house. The house, as a tyrannical agent, forced people to adapt to it, and to act as a consequence of changes dictated by Covid-19. This redefinition process has brought to light themes of great anthropological interest: new rituals, new definitions of cohabitation spaces, new needs and new fears.
As it was impossible to conduct classical fieldwork, we chose to use the method of collaborative autoethnography, involving a group of 30 students in our research. We were thus able to observe changing everyday habits and the reorganization of spaces for purposes of work or sociality, as well as changes in relations with the outside world, mediated by social networks.
Keywords
material culture; Italy; home; covid-19; collaborative autoethnography
References
AGAMBEN, Giorgio
Stato di eccezione. Homo Sacer II. Torino: Bollati Boringhieri.
Homo sacer. Il potere sovrano e la nuda vita. Torino: Einaudi.
AIME, Marco – FAVOLE, Adriano – REMOTTI, Francesco
Il mondo che avrete. Virus, antropocene, rivoluzione. Milano: UTET.
ACQUISTAPACE, Alessia
Relazioni senza nome, reti di affetti, solidarietà, intimità e cura oltre la coppia eterosessuale obbligatoria.
https://smaschieramenti.noblogs.org/post/2013/07/15/relazioni-senza-nome/
AUGÉ, Marc
Non-Lieux. Paris: Editions du Seuil.
BASSETTI, Chiara
Across Balconies. Interaction in porous home territories in the Italian lockdown. Etnografia e Ricerca
Qualitativa XIII (2): 233-243.
BAUSINGER, Hermann
Vicinanza estranea. La cultura popolare fra globalizzazione e Patria. Pisa: Pacini.
BONI, Federico
Frammenti di un discorso virale. Le cornici del coronavirus. Mediascapes Journal 15: 3-12.
BROMBERGER, Christian
Toucher. Terrain 49: 5-10.
BOURDIEU, Pierre
Des familles sans nom. Actes de la recherche en sciences sociale 113 (1): 3-5.
La miseria del mondo. Milano: Mimesis.
La logica della ricerca sociale. Sociologia generale. Vol. I. Milano: Mimesis.
CAMUS, Albert
La peste. Paris: Éditions Gallimard.
CAREY, Matthew
Mistrust. An Ethnographic Theory. Chicago: Hau Books.
CHANG, Heewon
Autoethnography as Method. Walnut Creek: Left Coast Press.
CHANG, Heewon – WAMBURA NGUNJIRI, Faith – HERNANDEZ, Kathy-Aann C.
Collaborative Autoethnography. California: Left Coast Press INC.
COFFIN, Jean Christophe
Ipocondria collettiva e tirannia consensuale.
https://www.treccani.it/magazine/atlante/cultura/Storie_virali_Ipocondria_collettiva.html,
/05/2020
CUTOLO, Armando
Altruismo e sorveglianza nella pandemic.
https://www.treccani.it/magazine/atlante/cultura/Altruismo_e_sorveglianza_nella_pandemic.html,
/04/2020
DALLA VIGNA, Pierre
I non-luoghi del coronavirus. Il Covid-19, la filosofia e gli zombie. Milano: Mimesis.
DE CERTEAU, Michel
L'invenzione del quotidiano. Roma: Manifestolibri.
DE MARTINO, Ernesto
Il mondo magico. Prolegomeni a una storia del magismo. Torino: Bollati Boringhieri.
La fine del mondo. Contributo all'analisi delle apocalissi culturali. Torino: Einaudi.
DOUGLAS, Mary
The Idea of Home: A Kind of Space, Social Research. 58 (1): 288-307.
Purity and Danger: An Analysis of the Concept of Pollution and Taboo. London: Routledge.
DURKHEIM, Émile
Opere. Milano: UTET.
ERIKSEN, Thomas Hylland
Overheating: An Anthropology of Accelerated Change. London: Pluto Press.
FASSIN, Didier
Punir. Une passion contemporaine. Paris: Editions du Seuil.
GIDDENS, Anthony
The Consequences of Modernity. Cambridge: Polity Press.
GOFFMAN, Erwing
The Presentation of Self in Everyday Life. New York: Garden City.
GRILLI, Simonetta
'Un nuovo spirito di famiglia'. Casa, famiglia e parentela nella Toscana meridionale. In Oltre le mura
domestiche. Famiglia e legami intergenerazionali dall'Unità d'Italia a oggi. Alessandro Rosina – Pier Paolo Viazzo
(eds). Udine: Forum. Pp. 143-169.
Antropologia delle famiglie contemporanee. Roma: Carocci.
GRILLI, Simonetta – ZANOTELLI, Francesco (eds)
Scelte di famiglia. Tendenze della parentela nella società contemporanea. Pisa: ETS.
GUIGONI, Alessandra – FERRARI, Renato (eds)
La vita quotidiana in Italia con il Covid-19. Danyang: M&J Publishing House.
HALL, Edward T.
The Hidden Dimension. New York: Garden City.
HINE, Christine
Ethnography for the Internet: Embedded, Embodied and Everyday. London: Bloomsbury.
HERZFELD, Michael
Cultural Intimacy. Social Poetics in the Nation-State. London: Routledge.
HORST, Heather
New Media Technologies in Everyday Life. In Digital Anthropology. Daniel Miller – Heather Horst (eds).
London: Berg. Pp. 61-79.
FABIETTI, Ugo
Errancy in Ethnography and Theory: On the Meaning and Role of 'Discovery' in Anthropological
Research. In Serendipity in Anthropological Research. Esther Hertzog – Haim Hazan (eds). London: Routledge.
Pp. 15-30.
KANEKO, Sachiko
Hikikomori and Cultural Debates about Japanese Personhood: An Anthropological Study of Japan's So-Called 'Socially-
Withdrawn Youth'. Oxford: Oxford University Press.
KNOX, Hannah – NAFUS, Dawn (eds)
Ethnography for a Data-Saturated World. Manchester: Manchester University Press.
KOPYTOFF, Igor
The Cultural Biography of Things. Commoditization as Process. In The Social Life of Things. Commodities in
Cultural Perspective. Arjun Appadurai (ed). Cambridge: Cambridge University Press. Pp. 64-94.
KOZINETS, Robert V.
Netnography. Doing Ethnography Research Online. London: SAGE.
LATOUR, Bruno
Non siamo mai stati moderni. Saggio di antropologia simmetrica. Bologna: Èleuthera.
LUSINI, Valentina – Pietro MELONI (eds)
Culture Domestiche. Saggi Interdisciplinari. Firenze: Olschki.
MADIANOU, Mirca – MILLER, Daniel
Polymedia: Towards a New Theory of Digital Media in Interpersonal Communication. International
Journal of Cultural Studies 16 (2): 169-187.
MARTIAL, Agnese
S'apparenter. Ethnologie des liens de familles recomposées. Paris: Éditions de la Maison des Sciences de l'Homme.
MAUSS, Marcel
Le tecniche del corpo. In Id., Teoria generale della magia e altri saggi. Torino: Einaudi. Pp. 385-409.
MAZZOCCO, Davide
Cronofagia. Come il capitalismo depreda il nostro tempo. Roma: D Editore.
MELONI, Pietro – ZANOTELLI, Francesco
Contrastare l'odio. L'uso dell'antropologia nella comunicazione pubblica tra sentimenti, populismo e
impegno politico. Un'introduzione. Antropologia Pubblica 6 (1): 21-40.
MILLER, Daniel
Home Possessions. Behind Closed Doors. Oxford: Berg.
Stuff. Cambridge: Polity Press.
Tales From Facebook. Cambridge: Polity Press.
Social Media in an English Village. London: UCL Press.
MILLER, Daniel – SLATER, Don
Internet: An Ethnographic Approach. London: Bloomsbury Academic.
MILLER, Daniel – MADIANOU, Mirca
Migration and New Media. Transnational Families and Polymedia. London: Routledge.
MILLER, Daniel – COSTA, Elisabetta – HAYNES, Nell – MCDONALD, Tom – NICOLESCU, Razvan – SINANAN,
Jolynna – SPYER, Juliano – VENKATRAMAN – WANG, Shrimam and Xinyuan
How the World Changed Social Media. London: UCL Press.
MILLER, Daniel – SINANAN, Jolynna
Visualising Facebook. London: UCL Press.
MOLINARI, Luca
Le case che saremo. Abitare dopo il lockdown. Roma: Nottetempo.
MORETTI, Chiara
Il senso della colpa ai tempi del Covid-19. Roma: Nottetempo.
MORINI, Cristina
Per amore o per forza. Femminilizzazione del lavoro e biopolitiche del lavoro. Verona: ombre corte.
NEFF, Gina – NAFUS, Dawn (eds)
Self-trackin. Cambridge, MA: MIT Press.
NICOLOSI, Guido
Lost Food: Comunicazione e Cibo Nella Società Ortoressica. Firenze: editpress.
OTTO, Rudolf
The Idea of Holy. An inquiry into the non-rational factor in the idea of the divine and its relation to the relational. London:
Oxford.
PALUMBO, Berardino
L'Unesco e il campanile. Antropologia, politica e beni culturali in Sicilia orientale. Roma: Meltemi.
Iperluogo. AM – Antropologia Museale 4 (14): 45-47.
Storie virali. L'inappagato bisogno di società.
https://www.treccani.it/magazine/atlante/cultura/Storie_Virali_Inappagato_bisogno.html,
/05/2020
PAOLUCCI, Gabriella
Pierre Bourdieu: strutturalismo costruttivista e sociologia relazionale. In Sociologie Contemporanee. Maurizio
Ghisleni – Walter Privitera (eds). Milano: UTET. Pp. 77-115.
PIASERE, Leonardo
L'etnografo Imperfetto. Esperienza e Cognizione in Antropologia. Roma-Bari: Laterza.
REMOTTI, Francesco
Sospensione a causa di un virus.
https://www.iisf.it/index.php/attivita/pubblicazioni-e-archivi/diario-della-crisi/francesco-remottisospensione-
a-causa-di-un-virus.html,
/04/2020
RIVIÈRE, Claude
I riti profani. Roma: Armando Editore.
ROSA, Hartmut
Alienation and Acceleration: Towards a Critical Theory of Late-Modernity Temporality. Århus: Århus University
Press.
SANÒ, Giuliana (ed)
Fare etnografia al tempo del covid-19. Continuità e fratture alla luce delle misure adottate per far fronte
all'emergenza sanitaria. Illuminazioni 53 (9).
SCHNEIDER, David
American Kinship. A Cultural Account. Chicago, University of Chicago Press.
SEGALEN, Martyne
Riti e rituali contemporanei. Bologna: Il Mulino.
SOLINAS, Pier Giorgio
Mille famiglie normali. Voci. Annuale di Scienze Umane XI: 98-113.
TALIANI, Simona
Memento mori.
https://www.treccani.it/magazine/atlante/cultura/Storie_virali_Memento_mori.html,
/05/2020
TURNER, Victor
From Ritual to Theatre: the Human Seriousness of Play. New York: PAJ Publications.
VAN GENNEP, Arnold
I riti di passaggio. Torino: Bollati Boringhieri.
WEINER, Annette B.
Cultural Difference and Density of Objects. American Ethnologist 21 (2): 391 403.
ZUBOFF, Shoshana
The Age of Surveillance Capitalism. The Fight for a Human Future at the New Frontier of Power. New York:
PublicAffairs.
Refbacks
There are currently no refbacks.
ISSN Print 2499-9288
ISSN Online 2281-1605
Publisher Edizioni Museo Pasqualino
Patronage University of Basilicata, Italy
Web Salvo Leo
Periodico registrato presso il Tribunale di Palermo con numero di registrazione 1/2023