Open Access

Subscription Access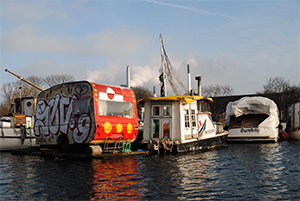 Fredens Havn. Politics of space and architecture in a little floating community in Copenhagen
Abstract
The article reflects on the importance given to the concept of space within the formation of political identity among marginal groups living in an urban context. The case study is a small 'floating community' called Fredens Havn, located in the city center of Copenhagen. The main aim of this article is to analyze the practices of space creation, by focusing on the architecture and design of the self-built floating houses and infrastructures. The purpose of this ethnography is to consider space and the built environment as a language used by Fredens Havn's settlers to communicate their presence to the rest of the city. In this regard we use the emic concept of
'take up space' applied to indicate those practices in which space is used as a language to communicate the instances and identities of marginal groups living in urban environments.
Keywords
architecture; material culture; semiotics; space; urban studies; urban anthropology
Full Text:
PDF

References
AA.VV.
Space for Urban Alternatives? Christiania 1971-2011. Möklinta: Gidlunds Förlag,
AMOUROUX, Christa
Normalizing Christiania: Project Clean Sweep and the Normalization Plan in Copenhagen. City & Society
(1): 108-132.
APPADURAI, Arjun
Introduction: Place and voice in anthropological theory. Cultural Anthropology 3(1): 16-20.
Modernity At Large: Cultural Dimensions of Globalization. Minneapolis: University of Minnesota Press.
The Future as Cultural Fact: Essays on the Global Condition. London: Verso.
BASSO, Keith Hamilton
Western Apache language and culture. Tucson: University of Arizona Press.
BOURDIER, Jean Paul – ALSAYYAD, Nezar
Dwellings, settlements, and tradition: cross-cultural perspectives. Lanham: University Press of America.
COPPOLA, Alessandro, VANOLO, Alberto
Normalising autonomous space: Ongoing transformations in Christiania, Copenhagen. Urban Studies
(6): 1152-1168.
DE CERTEAU, Michel
[1980] The practice of everyday life. Berkeley: University of California Press.
DURANTI, Alessandro
Culture e discorso. Un lessico per le scienze umane. Roma: Meltemi.
DURANTI, Alessandro – GOODWIN, Charles (eds)
Rethinking Context: Language as an Interactive Phenomenon. Cambridge: Cambridge University Press.
GIDDENS, Anthony
Central Problems in Social Theory: Actions, Structure and Contradiction in Social Analysis. Berkeley: University of
California Press.
GREIMAS, Algirdas Julien – COURTÉS, Joshep
Sémiotique: dictionnaire raisonné de la theorie du langage. Paris: Hachette.
HAMMAD, Manar
Livre l'espace, Comprendre l'architecture. Essays sèmiotique. Limoges: Pulim.
HARVEY, David
A Brief Story of Neoliberalism. New York: Oxford University Press.
HOLSTON, James
Autoconstruction in working-class Brazil. Cultural Anthropology 6: 447-465.
INGOLD, Tim
Making. Anthropology, Archaeology, Art and Architecture, London: Routledge.
LEFEBVRE, Henri
Le droit à la ville. L' Homme et la société 6: 29-35.
LOW, Setha
Spatializing Culture: The social production and social construction of public space. American Ethnologist
(4): 861-879.
On the plaza: the politics of public space and culture. Austin: University of Texas Press.
Toward an Anthropological Theory of Space and Place, Special Issue on Signification and Space. Semiotica
(1-4): 21–37.
LOW, Setha, LAWRENCE-ZUNIGA, Denise
The anthropology of space and place: Localiting culture. Malden: Blackwell.
NIELSEN, Asbjørn
Christiania: A free city in the city of Copenhagen, in C. Milstein (ed), Deciding for Ourselves: The promise of Direct Democracy. Chico: AK Press. Pp.137-160.
NONINI, Donald Macon (ed)
Companion to Urban Anthropology. Oxford: Wiley-Blackwell.
MALIGHETTI, Roberto
Biopolitiche di eccezione e pratiche di resistenza. Confluenze 3 (2): 22-34.
Eccedere l'eccezione. Pratiche di cambiamento e forme di cittadinanza. Atti del 34° Convegno Internazionale
di Americanistica. Pp. 873-882.
RICOEUR, Paul
From Text to action. Essays in Hermeneutic II. Evanston: Nortwestern University Press.
RODMAN, Margaret
Moving houses: Residential mobility of residents in Longana, Vanatu. American Anthropologist 87:56-72.
Empowering place: Multilocality and multivocality. American Anthropologist 94(3): 640-656.
SIGNORELLI, Amalia
Antropologia Urbana. Introduzione alla ricerca in Italia, Milano: Guerini studio.
STEIGER, Tina
Cycles of the Copenhagen squatter movement: From Slumstormer to BZ Brigades and the Autonomous
Movement, in M. Martinez Lopez (ed), The Urban Politics of the Squatters' movement. London: Palgrave
Macmillan. Pp.165-208.
THÖRN, Håkan
In between social engineering and gentrification: Urban restructuring, social movements, and the place
politics of open space. Journal of Urban Affairs 34(2): 153–168.
Refbacks
There are currently no refbacks.
ISSN Print 2499-9288
ISSN Online 2281-1605
Publisher Altrimedia Edizioni
Patronage University of Basilicata, Italy
Web Leonardo Di Benedetto
Periodico registrato presso il Tribunale di Matera, numero di registrazione 2/2014