Open Access

Subscription Access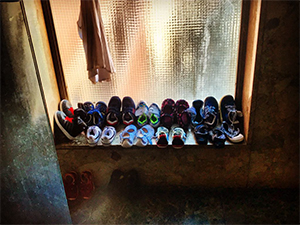 When squatting becomes 'stable precarity'. The case of Santa Croce/Spin Time Labs, Rome
Abstract
Starting from an ethnographic fieldwork project conducted within a squat in Rome (Santa Croce/Spin Time Labs), this paper aims to investigate the effects on the lives of squatters in a particular condition of housing
liminality that I here define as 'stable precarity', due to the more systemic chronicization of housing emergency at a city level. The paper, therefore, takes a two-fold approach: on the one hand, it interprets some of the daily
life experiences in the building and the moral economy of the squatter's community; on the other, it shows the attempts of squatters and activists of the political movement in Rome that squatted the building (Action) to
move on from their liminal condition, specifically by transitioning from the more traditional political instruments of the struggle over housing in Rome to an informal practice of urban regeneration that seeks to open the building to the surrounding neighborhood, with the aim of making the squat a common good for public use.
Keywords
precarity; housing emergency; moral economy; squatting; urban social movements
Full Text:
PDF

References
AGERGAARD, Sine – UNGRUHE, Christian
Ambivalent Precarity: Career Trajectories and Temporalities in Highly Skilled Sports Labor Migration
from West Africa to Northern Europe. Anthropology of Work Review 37(2): 67–78.
APPADURAI, Arjun
Modernity at large: Cultural Dimensions of Globalization. Minneapolis and London: University of Minnesota Press.
Illusion of Permanence: Interview with Arjun Appadurai. Perspecta 34: 44–52.
The Future as Cultural Fact. Essays on the Global Condition. London and New York: Verso.
ARNOLD, Thomas Clay
Rethinking Moral Economy. American Political Science Review 95(1): 85–95.
BELLONI, Milena – FRAVEGA, Enrico – GIUDICI, Daniela
Fuori dall'accoglienza: insediamenti informali di rifugiati tra marginalità e autonomia. Politiche Sociali 2:
-244.
BENJAMIN, Walter
[1968] Illuminations. London: Pimlico Press.
BOLZONI, Magda – GARGIULO, Enrico – MANOCCHI, Michele
The Social Consequences of the Denied Access to Housing for Refugees in Urban Settings: the Case of
Turin, Italy. International Journal of Housing Policy 15(4): 400-417.
BONI, Fabrizio – DE FINIS, Giorgio
Space Metropoliz. L'era delle migrazioni esoplanetarie. Roma: Bordeaux.
BOSI, Lorenzo – ZAMPONI, Lorenzo
Direct Social Actions and Economic Crises: The Relationship Between Forms of Action and Socioeconomic
Context in Italy. Partecipazione e Conflitto 8(2): 367–391.
BOUILLON, Florence
Le squat: problème social ou lieu d'émancipation?. Paris: ULM.
BOURDIEU, Pierre
Acts of Resistance: Against the Tyranny of the Market. New York: New Press.
BUTLER, Judith
Precarious Life: The Powers of Mourning and Violence. New York: Verso.
CACIAGLI, Carlotta
Housing Squats as 'Educational Sites of Resistance': The Process of Movement Social Base Formation in
the Struggle for the House. Antipode 0(0): 1–20.
CATTANEO, Claudio – ENGEL-DI MAURO, Salvatore
Urban Squats as Eco-social Resistance to and Resilience in the Face of Capitalist Relations: Case Study
from Barcelona and Rome. Partecipazione e Conflitto 8(2): 343–366.
DADUSC, Deanna – GRAZIOLI, Margherita – MARTÍNEZ, Miguel A.
Introduction: Citizenship as Inhabitance? Migrant Housing Squats Versus Institutional Accommodation.
Citizenship Studies 23(6): 521-539.
DELLA PORTA, Donatella – HÄNNINEN, Sakari – SIISIÄINEN, Martti – SILVASTI, Tina
The Precarization Effect. In The New Social Division. Making and Unmaking Precariousness. Donatella Della Porta
& Sakari Hänninen & Martti Siisisäinen & Tina Silvasti (eds). London: Palgrave Macmillan. Pp.1-24.
ERIKSEN, Thomas Hylland
Overheating: An Anthropology of Accelerated Change. London: Pluto Press.
ESTROFF, Sue
Identity, Disability and Schizophrenia: The Problem of Chronicity. In Knowledge, Power and Practice: The
Anthropology of Medicine and Everyday Life. Shirley Lindenbaum & Margaret Lock (eds). Berkeley: University of
California Press.
ETTLINGER, Nancy
Precarity Unbound. Alternatives: Global, Local, Political 32(3): 319–40.
FASSIN, Didier
Les économies morales revisitées. Annales. Histoire, Sciences Sociales 64(6): 1237–1266.
At the heart of the State. The moral world of institutions. London: Pluto Press.
FERGUSON, James
Expectations of Modernity: Myths and Meanings of Urban Life on the Zambian Copperbelt. Berkeley: University of
California Press.
FUDGE, Judy – STRAUSS, Kendra
Temporary Work, Agencies and Unfree Labour: Insecurity in the New World of Work. London: Routledge.
FULLER, Duncan
Part of the Action, or 'Going native'? Learning to Cope with the 'Politics of Ontegration'. Area 31(3): 221–
GIORGI, Sabina – FASULO, Alessandra
Transformative Homes. Squatting and Furnishing as Sociocultural Projects. Home Cultures 10(2): 111–134.
HANNERZ, Ulf
Soulside: Inquiries into Ghetto Culture and Community. New York: Columbia University Press.
KATZ, Cindi
Playing the field: questions of fieldwork in geography. Professional Geographer 46(1): 73-80.
KESSING, Roger Martin
Theories of Culture. In Annual Review of Anthropology 3. Palo Alto: Annual Reviews, Inc. Pp. 73-97.
KOSELLECK, Reinhart
The Practice of Conceptual History: Timing History, Spacing Concepts. Stanford: Stanford University Press.
LAZZARATO, Maurizio
From Capital-Labour to Capital-Life. Ephemera – Theory & Politics in Organization 4: 187–208.
MANOCCHI, Michele
Richiedenti asilo e rifugiati politici. Percorsi di ricostruzione identitaria: il caso torinese. Milan: Franco Angeli.
MILLAR, Kathleen
The Precarious Present: Wageless Labor and Disrupted Life in Rio de Janeiro, Brazil. Cultural Anthropology
(1): 32–53.
MORINI, Cristina – FUMAGALLI, Andrea
Life Put to Work: Towards a Life Theory of Value. Ephemera – Theory & Politics in Organization 10: 234–252.
MUGNANI, Laura
Attivisti, migranti e forme di lotta per la casa La vita sociale di un 'Coordinamento cittadino' nella Roma
contemporanea. Antropologia 4(3): 179–194.
NEILSON, Brett – ROSSITER, Ned
Precarity as a Political Concept, Or, Fordism as Exception. Theory, Culture & Society 25 (7–8): 51–72.
NORDSTROM, Carolyn
A Different Kind of Warstory. Philadelphia: University of Pennsylvania Press.
OLIVIER DE SARDAN, Jean-Pierre
La politique du terrain. Sur la production des données en anthropologie. Enquête 1: 71–109.
OSTANEL, Elena
Spazi fuori dal comune. Rigenerare, includere, innovare. Milano: Franco Angeli.
PIERRET, Régis
"Qu'est-ce que la précarité?" Socio. La nouvelle revue des sciences sociales 2 (December): 307–30.
PRUIJT, Hans
Squatting in Europe. Partecipazione e Conflitto 1:19–44.
PUCCINI, Enrico
Roma e le case popolari: i tre luoghi comuni da sfatare. Accessed online, December, 18- 2020:
https://www.romasette.it/roma-e-le-case-popolari-i-tre-luoghi-comuni-da-sfatare/
RICCIO, Bruno – RUSSO, Monica
Everyday Practiced Citizenship and the Challenges of Representation: Second-generation Associations in
Bologna. Journal of Modern Italian Studies 16(3): 360-372).
ROUTLEDGE, Paul
The Third Space as Critical Engagement. Antipode 28(4), 399-419.
SALSANO, Fernando
Edilizia residenziale pubblica, assistenza sociale e controllo della popolazione nella Roma del primo
Novecento (1903-1940). In Città e campagna: un binomio da ripensare. Gianluca Fiocco & Roberta Morelli (eds).
Rome: Viella. Pp. 95–118.
SCHIERUP, Carl-Ulrik – MUNCK, Ronaldo – LIKIC-BRBORIC, Branka – NEERGAARD, Anders
Migration, Precarity, and Global Governance: Challenges and Opportunities for Labour. Oxford: Oxford University
Press.
STANDING, Guy
The Precariat: The New Dangerous Class. London: Bloomsbury Academic.
STANLEY, Liz – WISE, Sue
Breaking out Again: Feminist Ontology and Epistemology. London: Routledge.
SWIDLER, Ann
Culture in Action: Symbols and Strategies. American Sociological Review 51(2): 273–286.
SZAKOLCZAI, Arpad
Reflexive Historical Sociology. London: Routledge.
TAUSSIG, Michael
The Nervous System. New York: Routledge.
THOMASSEN, Bjørn
Liminality and the Modern. Living Through the In-Between. Surrey and Burlington: Ashgate.
TOSI, Antonio
Retoriche dell'abitare e costruzione sociale delle politiche. Meridiana. Abitare XIX(62): 37–53.
TSING, Anna Lowenhaupt
The Mushroom at the End of the World. On the Possibility of Life in Capitalist Ruins. Princeton and Oxford: Princeton
University Press.
VAN GENNEP, Arnold
[1909] Les rites des passage. Paris: Librairie Stock.
VERENI, Piero
La porta di casa. Lo spazio domestico e di vicinato in una occupazione abitativa romana. In Sensibilia 6 –
Cose. Manrica Rotili & Marco Tedeschini (eds). Milan and Udine: Mimesis Edizioni. Pp. 311–326.
Cosmopolitismi liminari. Strategie di identità e categorizzazione tra cultura e classe nelle occupazioni a
scopo abitativo a Roma. ANUAC 4(2): 130–156.
VIGH, Henrik
[2003] Navigating Terrains of War: Youth and Soldiering in Guinea-Bissau. Oxford: Berghahn.
Crisis and Chronicity: Anthropological Perspectives on Continuous Conflict and Decline. Ethnos: Journal of
Anthropology 73(1): 5-24.
WHITE, Susan Reynolds
Questioning Misfortune: The Pragmatics of Uncertainty in Eastern Uganda. Cambridge: Cambridge University Press.
Refbacks
There are currently no refbacks.
ISSN Print 2499-9288
ISSN Online 2281-1605
Publisher Altrimedia Edizioni
Patronage University of Basilicata, Italy
Web Leonardo Di Benedetto
Periodico registrato presso il Tribunale di Matera, numero di registrazione 2/2014