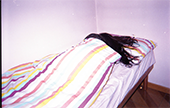 "S-punti di viSta": adolescence and visual narratives in the province of Milan
Abstract
These photos are the result of a workshop held at CPIA (Provincial Center for Adult Education) in Cinisello Balsamo (Milan), from March to December 2018. This work reflects on the imagery of twelve kids coming from different countries and backgrounds. Participants developed a path for research,
narration and analysis of the contemporary overuse of images, taking their distances from it with the help of an alternative medium: disposable cameras.
Keywords
Participatory photography; visual anthropology; youngsters; migration
References
ENGSTROM, JH
La Residence. Stockholm: Journal.
GILL, Stephen (edited by)
Unseen UK (Photographs by Uk Postmen and Women Words by Jon Ronson). Nobody books, self publishing.
GOLDBERG, Jim
Rich and Poor. New York: Random House.
GRASSI, Paolo – SPERTINI, Matteo – PAROLARI Christian.
L'Europa deporta. Richiedenti asilo nella rete del regolamento di Dublino. Verona: Ombre corte.
ORBEY, Eren – COMBS, Colin,
/02/2018 A midwestern high schooler's intimate, imperfect portrait of adolescence. The Newyorker.
SCHONBERG, Jeff – BOURGOIS, Philippe.
Reietti e fuorilegge. Antropologia della violenza nella metropoli Americana. Roma: Derive Approdi.
Refbacks
There are currently no refbacks.
ISSN Print 2499-9288
ISSN Online 2281-1605
Publisher Edizioni Museo Pasqualino
Patronage University of Basilicata, Italy
Web Salvo Leo
Periodico registrato presso il Tribunale di Palermo con numero di registrazione 1/2023