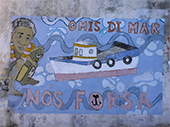 Cape Verde: Society, Island Identity and Worldviews
Abstract
The archipelago of Cape Verde is unknown to many people. It is not their fault, especially when Cape Verde is located off the coast of West Africa and is not included in most commercial maps of the African continent. If we read a world map, our attention is seized by major countries, and the tiny nation pales into insignificance. We are missing out on the opportunity to learn about Cape Verde, which has the world's first creolised population.
Keywords
Cape Verde; creole; island studies; Portuguese colonies; West Africa
References
ÅKESSON, Lisa
Making a Life: Meanings of Migration in Cape Verde. Doctoral Dissertation. Goteborg: Department of Social Anthropology, Goteborg University.
BATALHA, Luís, and Jørgen CARLING, eds.
Transnational Archipelago: Perspectives on Cape Verdean Migration and Diaspora. Amsterdam: Amsterdam University Press.
BIGMAN, Laura
History and Hunger in West Africa: Food Production and Entitlement in Guinea-Bissau and Cape Verde. Westport: Greenwood Press.
CABRAL, Olavo Varela
Rie E Bon Pa Saudi. Praia: Pedro Cardoso Livraria.
CARLING, Jørgen, and Lisa ÅKESSON
"Mobility at the Heart of a Nation: Patterns and Meanings of Cape Verdean Migration." International Migration 47(3):123–155. DOI: 10.1111/j.1468-2435.2009.00526.x.
CARREIRA, António
Cabo Verde: Aspectos Sociais. Secas e Fomes do Século XX. 2.ª ed. Lisboa: Ulmeiro.
CARSTEN, Janet
Cultures of Relatedness: New Approaches to the Study of Kinship. Cambridge: Cambridge University Press.
CUSACK, Igor
"African Cuisines: Recipes for Nation-Building?" Journal of African Cultural Studies 13 (2): 207–25.
DRÈZE, Jean
"Famine Prevention in Africa: Some Experiences and Lessons." In The Political Economy of Hunger. Volume 2. Famine Prevention, edited by Jean Drèze and Amartya Sen, 123–72. Oxford: Clarendon Press.
GIBAU, Gina
"Contested Identities: Narratives of Race and Ethnicity in the Cape Verdean Diaspora." Identities 12 (3): 405–38. Doi: 10.1080/10702890500203702.
GOTTLIEB, Alma
"Introduction to Lusophoning Mande Studies: Perspectives from the Cape Verde Islands and Their 550- Year Diaspora." Mande Studies 16–17: 1–4.
GRASSI, Marzia, and Iolanda ÉVORA, eds.
Género e Migrações Cabo-Verdianas. Género e Migrações Cabo-Verdianas. Lisboa: Imprensa de Ciências Sociais.
KEESE, Alexander
"Managing the Prospect of Famine: Cape Verdean Officials, Subsistence Emergencies, and the Change of Elite Attitudes During Portugal's Late Colonial Phase, 1939–1961." Itinerario 36 (1): 49–70. DOI:
1017/S0165115312000368.
LESOURD, Michel
État Et Société Aux Îles Du Cap-Vert : Alternatives Pour Un Petit État Insulaire. Paris : Karthala.
PATTERSON, David
"Epidemics, Famines, and Population in the Cape Verde Islands, 1580-1900." The International Journal of African Historical Studies 21 (2): 291–313.
RODRIGUES, Isabel Fêo
"Islands of Sexuality: Theories and Histories of Creolization in Cape Verde." International Journal of African Historical Studies 36 (1): 83–104. DOI: 10.2307/3559320.
SANTOS, Danilo
A Imagem do Cabo-verdianos nos Textos Portugueses 1784-1844. Praia: Livraria Pedro Cardoso.
SANTOS, Maria Emília Madeira, Maria Manuel Ferraz TORRÃO, and Maria João SOARES, eds.
História Concisa de Cabo Verde. Lisboa e Praia: Instituto de Investigação Científica Tropical e Instituto da Investigação e do Património Culturais.
SEIBERT, Gerhard
"Crioulização em Cabo Verde e São Tomé e Príncipe: Divergências Históricas e Identitárias." Afro-Ásia 49: 41–70.
SILVA, António Leão
História de Um Sahel Insular. 2.ª ed. Praia: Spleen-Edições.
Refbacks
There are currently no refbacks.
ISSN Print 2499-9288
ISSN Online 2281-1605
Publisher Edizioni Museo Pasqualino
Patronage University of Basilicata, Italy
Web Salvo Leo
Periodico registrato presso il Tribunale di Palermo con numero di registrazione 1/2023