Open Access

Subscription Access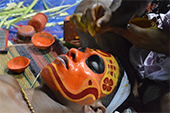 Creating Pantheon -Nature, Colours and Beliefs: A Visual Narrative of Kaliyattam in Kerala
Abstract
The core idea of this essay is to elucidate the process through which people create and worship local gods and goddesses in Kerala, India. By using a series of photographs, this essay portrays the life of the
performers and the process of becoming gods in the traditional shrines of a vernacular religious system in Hinduism. The practitioners make use of the nature they live in creating the highly decorated deities. The materials in the costume reflects the natural sources in their own surroundings and intricate face drawings which symbolizes their world view. Most significantly, the beliefs system in the deities reflects the society itself.
Keywords
South India; Hinduism; rituals; performance; sacred grove; theyyam; kaliyattam; caste system
Full Text:
PDF

References
ASHLEY, Wayne - HOLLOMAN, Regina.
From Ritual to Theatre in Kerala. The Drama Review: TDR, 26 (2): 59-72.
ASHLEY, Wayne.
The Teyyam Kettu of Northern Kerala. The Drama Review: TDR, 23 (2): 99-112.
BLACKBURN, Stuart H.
Death and Deification: Folk Cults in Hinduism. History of Religions, 24 (3): 255-74.
CHANDRAN, T V.
Ritual as ideology: text and context in teyyam. Indira Gandhi National Centre for the Arts, New Delhi: D.K. Print
world.
DAMODARAN, M P.
Teyyam is the best tool for reconstructing the history of North Malabar. Anthropologist. 10 (4): 283-87.
FREEMAN, John Richardson
Gods, Groves and the Culture of Nature in Kerala. Modern Asian Studies, 33 (2): 257-302.
FREEMAN, John Richardson
Purity and violence: sacred power in the teyyam worship of Malabar. University of Pennsylvania. Dissertations
available from ProQuest. AAI9125644. https://repository.upenn.edu/dissertations/AAI9125644.
GADGIL, Madhav – CHANDRAN,M. D. Subash
Sacred Groves. India International Centre Quarterly, 19 (1/2): 183-187.
GADGIL, Madhav – VARTAK,V. D.
The Sacred Groves of Western Ghats in India. Economic Botany, 30 (2): 152-160.
GOUGH, E. Kathleen
Cults of the Dead among the Nāyars. The Journal of American Folklore, 71 (281): 446-78.
GROESBECK, Rolf
"Classical Music," "Folk Music," and the Brahmanical Temple in Kerala, India. Asian Music, 30 (2): 87-112.
GROESBECK, Rolf
Dhim, Kam, Cappu, Pottu: Timbral Discourses and Performances among Temple Drummers in Kerala, India. Yearbook for Traditional Music, 35: 39-68.
GOUGH, Kathleen
Peasant Resistance and Revolt in South India. Pacific Affairs, 41 (4): 526-44.
KOGA, Mayuri
The politics of ritual and art in Kerala: controversies concerning the staging of teyyam. Journal of the Japanese Association for South Asian Studies. 15. 54-79.
KURUP, K. K. N.
Teyyam. Trivandrum: Government of Kerala, Department of Public Relations.
KURUP, K. K. N.
Peasantry and the Anti-Imperialist Struggles in Kerala. Social Scientist, 16 (9): 35-45.
KURUP, K.K.N.
The Socio-Economic Transformation of a Traditional Village in Kerala. Proceedings of the Indian History Congress, 64: 850-859.
MENON, Dilip M.
Peasants and Politics in Malabar. Economic and Political Weekly, 32 (41): 2618-2620.
MILLER, Eric J.
Caste and Territory in Malabar. American Anthropologist, New Series,56 (3): 410- 420.
NAMBIAR, Balan
Teyyam. India International Centre Quarterly, 22 (2/3): 135-142.
RADHAKRISHNAN, P.
Land Reforms and Social Change: Study of a Kerala Village. Economic and Political Weekly, 18 (52/53): A143-150.
TARABOUT, Gilles
Malabar Gods, Nation-Building and World Culture: On Perceptions of the Local and the Global. In Globalizing India: Perspectives from Below. Jackie Assayag & Christopher John Fuller (eds). London: Anthem
Press. Pp. 186-209.
TARABOUT, Gilles
"Passions" in the Discourses on Witchcraft in Kerala. Journal of Indian Philosophy, 28 (5/6): 651-664.
VADAKKINIYIL, Dinesan
Images of Transgression: Teyyam in Malabar. Social Analysis: The International Journal of Social and Cultural Practice, 54 (2): 130-150.
ZARRILLI, Phillip B.
Kalarippayatt, Martial Art of Kerala. The Drama Review: TDR, 23 (2): 113-24.
DOI:
http://dx.doi.org/10.12835/ve2019.1-0141
Refbacks
There are currently no refbacks.
ISSN Print 2499-9288
ISSN Online 2281-1605
Publisher Altrimedia Edizioni
Patronage University of Basilicata, Italy
Web Leonardo Di Benedetto
Periodico registrato presso il Tribunale di Matera, numero di registrazione 2/2014