Open Access

Subscription Access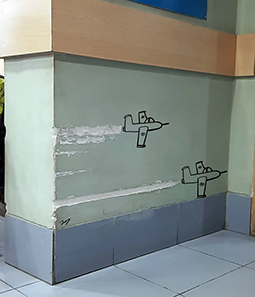 Indian Post-Digital Aesthetics
Abstract
The artwork by Rajkamal Aich, presented in this photo-essay, is an example of post-digital aesthetics. His work combines photography with drawing and thereby creates new visions and contexts of mundane objects. A deconstruction of his work and an evaluation of the production context allow an understanding of this decidedly Indian form of what has been called post digital aesthetics. Viewing and analysing his artwork provides an understanding of one contemporary form of art in India, as it develops at the crossroads of photography, digital art and classical painting.
Keywords
India; digital photography; art; photography; visual art; painting; Indian art; Rajkamal Aich
Full Text:
PDF

References
BRIDLE, James
The new aesthetic, British Journal of Photography September 2012, 67-71.
CRAMER, Florian
What is 'Post-digital'?, APRJA 3 (1), 1-22. http://www.aprja.net/what-is-post-digital/.
FULLER, C. J. and HARIPRIYA Narasimhan
Information Technology Professionals and the New-Rich Middle Class in Chennai (Madras), Modern Asian Studies 41 (1), 121–150.
UPADHYA, Carol; VASAVI, A. R. (Eds.)
In an outpost of the global information economy. Work and workers in India's outsourcing industry. Delhi: Routledge India.
SMITH, Cooper
Facebook users are uploading 350 million new photos each day, Business Insider.
https://www.businessinsider.com/facebook-350-million-photos-each-day-2013-9?IR=T
VAN DIJCK, Jose
Mediated memories in the digital age. Stanford: Stanford University Press.
Wikipedia: https://en.wikipedia.org/wiki/Instagram#User_characteristics_and_behavior
DOI:
http://dx.doi.org/10.12835/ve2018.1-0133
Refbacks
There are currently no refbacks.
ISSN Print 2499-9288
ISSN Online 2281-1605
Publisher Edizioni Museo Pasqualino
Patronage University of Basilicata, Italy
Web Salvo Leo
Periodico registrato presso il Tribunale di Palermo con numero di registrazione 1/2023