Open Access

Subscription Access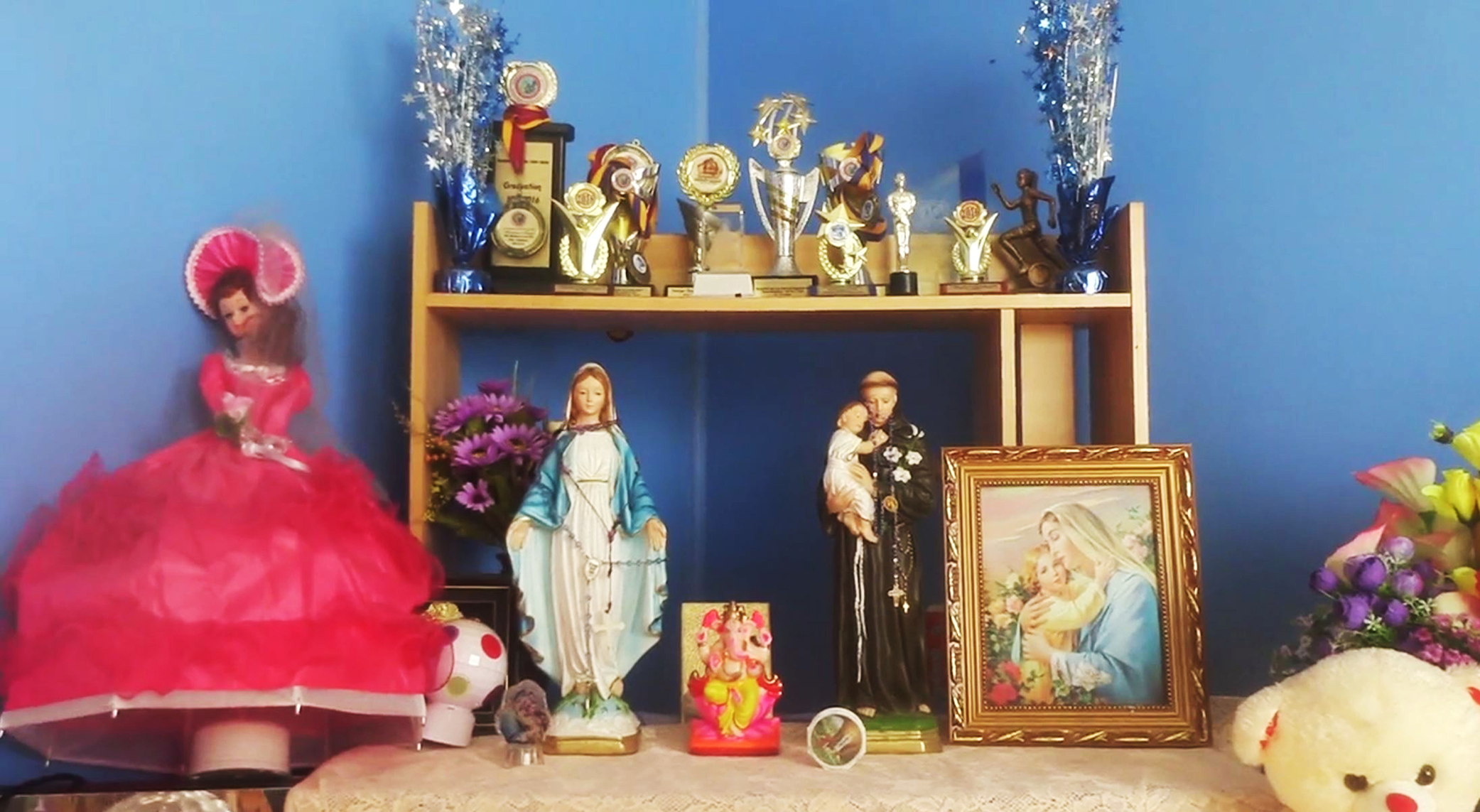 Using Visual and Mobile Methods in the Home
Abstract
This paper provides methodological insights into everyday routines and encounters in the homes of Sri Lankan refugees settling in Sydney, Australia. The home is a frequented place which facilitates our daily interactions and routines where person-place bonds can develop. A critical ethnography, including the use of visual and mobile methods, can uncover how our person to person, person to place and non-human interactions shape and (re)create the home. In this research, an ethnographic method comprised two parts: first, a walk-along interview in each participant's home was combined with videography followed by an in-depth interview. This visual ethnography has sought to reveal the journeys, stories, and memories of refugees as they settle. Part of these journeys, stories, and memories involve understanding how Sri Lankan refugees (re)create feelings of being 'at home' – through their daily practices, sensory articulations and encounters with objects – that foster (or not) their settlement in a host city.
Keywords
Sri Lanka; refugees; mobile; mobile methods; visual methods; home
Full Text:
PDF

References
AUSTRALIAN BUREAU OF STATISTICS
Census Community Profiles. Accessed online, 28 September, 2017: http://www.censusdata.abs.gov.au/census_services/getproduct/census/2016/communityprofile/036?opendocument
AHMED, Sara
Happy Objects. In The Affect Reader. Gregg, M. & Seigworth, G. (éds.), North Carolina: Duke University Press. Pp. 29-51.
AHUTOSH, Ishan – MOUNTZ, Alison
The Geopolitics of Migrant Mobility: Tracing State Relations through Refugee Claims, Boats and Discourses. Geopolitics, 17: 335-354.
BAYRE, Francesca – HARPER, Krista – AFONSO, Ana Isabel
Participatory Approaches to Visual Ethnography from the Digital to the Handmade. An Introduction. Visual Ethnography, 5 (1): 5-13.
BOCCAGNI, Paolo
Migration the Search for Home: Mapping Domestic Space in Migrants' Everyday Lives, New York: Palgrave Macmillan.
BRIGHENTI, Andrea M. – MATTIUCCI, Cristina
Visualising the riverbank. City, 16 (1-2): 221-234.
BURNLEY, Ian – LIU, Edgar – EASTHOPE, Hazel
Geographies of adult multigenerational family households in metropolitan Sydney. Geographical Research, 54: 391-405.
CRANG, Mike
Qualitative methods: touchy, feely, look-see? Progress in Human Geography, 27 (4): 494-504.
CRANG, Mike – COOK, Ian
Doing Ethnographies, London: SAGE.
DE LEON, Jason – COHEN, Jeffrey H.
Object and Walking Probes in Ethnographic Interviewing. Field Methods, 17 (2): 200-204.
DEGEN, Monica Montserrat – ROSE Gillian
The Sensory Experiencing of Urban Design: The Role of Walking and Perceptual Memory. Urban Studies, 49 (15), pp. 3271-3287.
DICKSON-SWIFT, Virginia – JAMES, Erica – KIPPEN, Sandra – LIAMPUTTONG, Pranee
Blurring Boundaries in Qualitative Health Research on Sensitive Topics. Qualitative Health Research, 16(6), pp. 853-871.
DROZDZEWSKi, Danielle
Memory, Movement, Mobility: Affect-full Encounters with Memory in Singapore. Media Theory, 2(1), pp. 245-265.
EASTHOPE, Hazel – STONE, Wendy – CHESHIRE, Lisa
The decline of 'advantageous disadvantage' in gateway suburbs in Australia: The challenge of private housing market settlement for newly arrived migrants. Urban Studies, 55(9), pp. 1904-1923.
GARRETT, Bradley
'Videographic geographies: Using digital video for geographic research' Progress in Human Geography, 35(4), pp. 521-541.
GEORGE, Miriam – KLEIWER, Wendy – RAJAN, Sebastan Irudaya
"Rather than Talking in Tamil, They Should be Talking to Tamils": Sri Lankan Tamil Refugee Readiness for Repatriation. Refugee Survey Quarterly, 34(2), p. 1-22.
GORMAN-MURRAY, Andrew – AND DOWLING, Robyn
Home. M/C Journal 10(4). Viewed 28 September 2017. http://journal.media-culture.org.au/0708/01-editorial.php.
GROBAR, Lisa – GNANASELVAM, Shiranthi
The Economic Effects of the Sri Lankan Civil War. Economic Development and Cultural Change, 41(2), pp. 395- 405.
HAGE, Ghassan
At home in the entrails of the west: multiculturalism, ethnic food and migrant home-building. In: Grace, H., Hage G., Johnson L., Langsworth J. and Symonds M. (eds), home/world: space, community and marginality in Sydney's west, Marrickville: Pluto Press, pp. 99-153.
HAGE, Ghassan
Migration, Food, Memory and Home-Building. In: Radstone, S. and Schwarz, B. (eds), Memory: Histories, Theories, Debates, New York: Fordham University Press, pp. 416-427.
HUGMAN, Richard – BARTOLOMEI, Linda – PITTAWAY, Eileen
Human Agency and the Meaning of Informed Consent: Reflections on Research with Refugees. Journal of Refugee Studies, 24(4), pp. 655-671.
HUGO, Graeme – DISSANAYAKE, Lakshman.
The Process of Sri Lankan Migration to Australia Focussing on Irregular Migrants Seeking Asylum. Irregular Migration Research Programme, 10, p. 1-28.
HYNDMAN, Jennifer
The Securitization of Fear in Post-Tsunami Sri Lanka. Annals of the Association of American Geographers, 97, pp. 361-372.
JONES, Owain
'Endlessly revisited and forever gone': on memory, reverie and emotional imagination in doing children's geographies. Children's Geographies, 1, pp. 25-36.
JONES, Owain
Geography, memory and non-representational geographies. Geography Compass, 5, pp. 875-885.
INGOLD, Tim
The Perception of the Environment: Essays on Livelihood, Dwelling and Skill. Routledge: London.
INGOLD, Tim
'Toward an Ecology of Materials'. Annual Review of Anthropology, 41, pp. 427-442.
INGOLD, Tim
Making: Anthropology, Archaeology, Art and Architecture. Oxon: Routledge.
INGOLD, Tim – LEE VERGUNST, Jo
Ways of Walking: Ethnography and Practice on Foot, Surrey: Ashgate Publishing.
KUSENBACH, Margarethe
Street Phenomenology: The Go-Along as Ethnographic Research Tool. Ethnography, 4(3), pp. 455-485.
LEY-CERVANTES, Melissa – DUYVENDAK, Jan Willem
At home in generic places: personalizing strategies of the mobile rich. Journal of Housing and the Built Environment, 32(1), pp.63-76.
LONGHURST, Robyb – HO, Elsie – JOHNSTON, Lynda
Using 'the Body' as an 'Instrument of Research: Kimch'i and Pavlova. Area, 40(2), pp. 208 – 217.
LONGHURST, Robyn – JOHNSTON, Lynda – HO, Elsie
A visceral approach: cooking 'at home' with migrant women in Hamilton, New Zealand, Transactions of the Institute of British Geographers, 34(3), pp. 333-345.
MACKENZIE, Catriona – MCDOWELL, Christopher – PITTAWAY, Eileen
Beyond "Do no Harm": the Challenge of Constructing Ethical Relationships in Refugee Research. Journal of Refugee Studies, 20(2), pp. 299-319.
MINICHIELLO, Victor – ARONI, Rosalie – HAYS, Terrence Neville
In-depth interviewing: Principles, techniques, analysis. Pearson Education Australia.
MOSS, Pamela
Feminist geography in practice: research and methods. Malden: Blackwell Publishers.
PINK, Sarah
Home Truths: Gender, Domestic Objects and Everyday Life. New York: Berg.
PINK, Sarah
'Walking with video' Visual Studies, 22(3), pp. 240-252.
PINK, Sarah
Mobilising Visual Ethnography: Making Routes, Making Place and Making Images. Forum: Qualitative Social Research, 9(3), pp. 1-18.
PINK, Sarah
Doing Sensory Ethnography. London: SAGE.
PINK, Sarah
Doing Visual Ethnography. London: SAGE.
PINK, Sarah – LEDER MACKLEY, Kerstin
Moving, Making and Atmosphere: Routines of Home as Sites for Mundane Improvisation. Mobilities, 11(2), pp. 171-187.
PITTAWAY, Eilee – REES, Susan – BARTOLOMEI, Linda
Gendered Dimensions of the 2004 Tsunami and a Potential Social Work Response. International Social Work, 50(3), pp. 307–319.
PITTAWAY, Eileen – BARTOLOMEI, Linda – DONEY, Geraldine
The Glue that Binds: an exploration of the way resettled refugee communities define and experience social capital. Community Development Journal, 51(3), pp. 401-418.
PULVIRENTI, Mariastella – MASON, Gail
'Resilience and Survival: Refugee Women and Violence' Current Issues in Criminal Justice, 23(1), pp. 37 – 52.
QSR INTERNATIONAL
NVivo 11 Pro for Windows. Viewed 2 August 2018. http://download.qsrinternational.com/Document/NVivo11/11.3.0/en-US/NVivo11-Getting-Started-Guide-Pro-edition.pdf
RATNAM, Charishma
Book Review – Migration and the Search for Home: Mapping Domestic Space in Migrants' Everyday Lives, Paolo Boccagni, Palgrave Macmillan, New York (2017), xxi and 113 p., ISBN: 978-1-137-58801-2. Emotion, Space and Society, 25, pp. 3-4.
RATNAM, Charishma
Creating home: Intersections of memory and identity. Geography Compass, 12(4), pp. 1-11.
RATNAM, Charishma – DROZDZEWSKI, Danielle – CHAPPLE, Rosalie
Can place attachment mediate perceptions of bushfire risk? A case study of the Blue Mountains, NSW. The Australian Journal of Emergency Management, 31(4), pp. 67-71.
RATNAM, Charishma – DROZDZEWSKI, Danielle
Assembling attachments to homes under bushfire risk. Geographical Research. 56(4), pp. 42-53.
RISHBETH Clare – FINNEY, Nissa
Novelty and Nostalgia in Urban Greenspace: Refugee Perspectives. Tijdschrift voor economische en sociale geografie, 97(3), pp. 281-295.
ROSE, Gillian
On the relation between 'visual research methods' and contemporary visual culture. The Sociological Review, 62, pp. 24-46.
SHELLER, Mimi
The new mobilities paradigm for a live sociology. Current Sociology, 62(6), pp. 789 – 811.
SUMARTOJO, Shanti
Commemorative atmospheres: memorial sites, collective evets and the experience of national identity. Transactions of the Institute of British Geographers, 41(4), pp. 541-553.
TOLIA-KELLY, Divya P.
Locating Processes of Identification: Studying the Precipitates of Re-Memory through Artefacts in the British Asian Home. Transactions of the Institute of British Geographers, 29(3), pp. 314-329.
TOLIA-KELLY, Divya P.
Landscape, Race and Memory: Material Ecologies of Citizenship. Routledge: London.
UNITED NATIONS
Report of the Secretary-General's Panel of Experts on Accountability in Sri Lanka. United Nations, pp. i-214.
URRY, John
Mobilities. Vancouver: Polity.
WATERTON, Emma – WATSON, Steve
A War Long Forgotten. Angelaki: Journal of Theoretical Humanities 20(3), pp. 89-103.
WILES, Janine – ROSENBERG, Mark –KEARNS, Robyn
Narrative analysis as a strategy for understanding interview talk in geographic research. Area, 37(1), pp. 89–99.
WILLS, Wendy – DICKINSON, Angela – MEAH, Angela – SHORT, Frances
Reflections on the Use of Visual Methods in a Qualitative Study of Domestic Kitchen Practices. Sociology, 50(3), pp.470-485.
WOLIFSON, Peta
Encountering the night with mobile methods. Geographical Review, 106 (2), pp.174–200.
Refbacks
There are currently no refbacks.
ISSN Print 2499-9288
ISSN Online 2281-1605
Publisher Edizioni Museo Pasqualino
Patronage University of Basilicata, Italy
Web Salvo Leo
Periodico registrato presso il Tribunale di Palermo con numero di registrazione 1/2023