Open Access

Subscription Access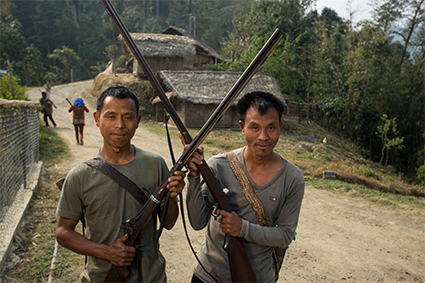 Long-Wa: The Last of the Headhunters
Abstract
Long Wa, North East India, bordering with Myanmar, home to the last living Konyak Headhunters of Nagaland; older tattooed men, surrounded by green prosperous forests, living a traditional way of life which is quickly disappearing.
The photography works, titled "Long Wa: The Last of the Headhunters", is a series of images documenting the last living Headhunters of Nagaland. The medium used was intended to capture a moment in time to help
preserve a disappearing culture. Conflicts caused by globalization, rapid development and government pressure within Nagaland are causing the Headhunters' way of life to disappear.
This work experiments with High Speed Sync (HSS) studio strobe photography. This technique permits the introduced light to expose the subject while allowing the background details to be naturally lit by the sun. HSS photography adds a strong sense of presence and importance to the photographic subject. Using professional portable studio allows the photographer to bring studio quality lighting to the amazing outdoor settings.
Exploring the jungles and mountains of North East India in search of the feared tattooed men of the Konyak tribe I soon found respected warriors concerned with their disappearing culture and lost stories. With the use of HSS photography I was able to showcase the environment of their living conditions, while simultaneously allowing my subjects to stand proudly in my composition. This work is not to be seen as photojournalism but rather as an experimental form of visual ethnography.
Keywords
Konyak; photography; visual ethnography; India; headhunters; headhunting
Full Text:
PDF

Refbacks
There are currently no refbacks.
ISSN Print 2499-9288
ISSN Online 2281-1605
Publisher Edizioni Museo Pasqualino
Patronage University of Basilicata, Italy
Web Salvo Leo
Periodico registrato presso il Tribunale di Palermo con numero di registrazione 1/2023