Open Access

Subscription Access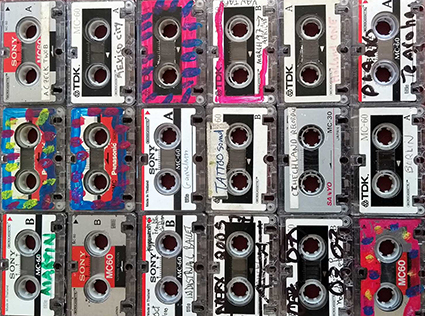 Animism and Artefact: The entangled Agencies of a DIY [Do-It-Yourself] Maker
Abstract
Using images from my own creative practice, the entangled agencies of DiY [Do-it-Yourself] making are expressed through a messy, intuitive and exploratory engagement with materials. The combination of animism
and material are used to describe a techno-animist approach to technology and investigated visually through notebook sketches, photographs of the workshop and the artefacts produced, highlighting parallels between the
material turn and more ancient belief systems which recognise a spirit or life force within objects.
The notebook is of particular importance as a space of creativity and as a support for mental processes: an 'extended mind' of material agency which plays an important role in the production of artefacts. As an
ethnography of both materials and human practice this article challenges the human-centred focus of autoethnography, or self-ethnography, acknowledging materials as active forces in the production of artefacts.
DiY maker culture offers a unique contemporary context in the generation of a type of knowledge which is contained within both human and the material substances of the artefact.
Keywords
Animism; creative technology; ethnography; Do-it-Yourself
Full Text:
PDF

References
BARAD, K.
Meeting the universe halfway quantum physics and the entanglement of matter and meaning. Durham : Duke University Press.
BARAD, K.
Posthumanist Performativity: Toward an Understanding of How Matter Comes to Matter. Signs. Vol. 28, No. 3, Gender and Science: New Issues (Spring 2003), 801-831.
BENNETT, J.
Vibrant matter: A political ecology of things. Durham, NC: Duke University Press.
BIRD-DAVID, Nurit
"Animism" Revisited: Personhood, Environment, and Relational Epistemology. Current Anthropology. 40 (S1): S68.
BOCHNER, A. & ELLIS, C.
Evocative Autoethnography: Writing lives and telling stories. NY: Routledge.
BRYANT, L. R.
Onto-cartography: An ontology of machines and media. Edinburgh: Edinburgh University Press.
BUTZ, D. & BESIO, K.
The Value of Autoethnography for Field Research in Transcultural Settings, The Professional Geographer, 56:3, 350-360.
CARTER, C.
Chris Carter: co-inventor of the The Gristleizer. Retrieved April 11, 2017, from http://gristleizer.com/
CLARK, A.
Supersizing the mind: Embodiment, action, and cognitive extension. Oxford: Oxford University Press.
CLARK, A., & CHALMERS, D.
The extended mind. Analysis, 58(1), 7-19.
GUERRINI, A.
The material turn in the history of life science. Literature Compass, 13/7 469-480.
HATCH, M.
The Maker Movement Manifesto: Rules for Innovation in the New World of Crafters, Hackers, and Tinkerers. Columbus, OH: McGraw-Hill books.
HERBERT, N.
Holistic Physics – or – An Introduction to Quantum Tantra. Retrieved on April 5, 2017
from http://www.southerncrossreview.org/16/herbert.essay.htm
HORNBORG, A.
"Animism, fetishism, and objectivism as strategies for knowing (or not knowing) the world". Ethnos. 71 (1): 22–4.
HYDE, L.
Trickster makes this world: How disruptive imagination creates culture. London: Canongate.
LAPOINTE, F-J.
On the role of experimentation in art (and science). Media-N: Journal of the New Media Caucus (11)3.
LATOUR, B.
Reassembling the social: An introduction to actor-network-theory. Oxford: Oxford University Press.
LAW, J.
After Method: Mess in Social Science Research. NY: Routledge.
LOGUE, S.
Music For Misfits The Story Of Indie 1/3 The Diy movement: BBC 4 documentary. Retrieved on November 5, 2018 from https://www.bbc.co.uk/programmes/b06f17bk
MALAFOURIS, L.
How things shape the world: A theory of material engagement. Massachusetts: MA: MIT Press.
MALAFOURIS, L.
At the potter's wheel: An argument for material agency. In C. Knappett & L. Malafouris (Eds.), Material agency: Towards a non-anthropocentric approach (pp. 19-36). New York, NY: Springer.
PICKERING, A.
The Mangle of Practice Time, Agency, and Science. Chicago: University of Chicago Press.
POLANYI, M.
Personal knowledge: Towards a post-critical philosophy. London: Routledge.
REED-DANAHAY, D.
Auto/ethnography : Rewriting the self and the social (Explorations in anthropology). Oxford ; New York: Berg.
RICHARDSON, K.
Technological Animism: The Uncanny Personhood of Humanoid Machines. Social Analysis. Spring 2016, Vol. 60 Issue 1, p110-128.
SHARPLES, M., MCANDREW, P., WELLER, M., FERGUSON, R., FITZGERALD, E., HIRST, T., &
GAVED, M.
Innovating Pedagogy 2013. Milton Keynes, UK: Institute of Educational Technology, The Open University.
SNAKE-BEINGS, E.
The shrines of Emit Snake-Beings. Retrieved on November 5, 2018 from www.snakebeings.org/shrines
SNAKE-BEINGS, E.
A Maker Culture and DiY technologies: re-functioning as a Techno-Animist practice. Continuum: Journal of Media and Cultural Studies.
SNAKE-BEINGS, E.
B 'The Do-it-Yourself (DiY) craft aesthetic of The Trons − Robot garage band', Craft Research, 8: 1, pp. 55–77.
SNAKE-BEINGS, E.
C 'It's on the tip of my Google': Interactive performance and the non-totalising learning environment. E-learning and New Media journal – Sage Publications.
SNAKE-BEINGS, E.
The DiY ['Do it yourself'] Ethos: A participatory culture of material engagement. University of Waikato: Doctoral Thesis.
SNAKE-BEINGS, E.
DiY participatory culture: Allowing space for inefficiency, error and noise. Acoustic Space #12 (Techno-Ecologies II), 37-46.
MCLEAN, S, J.
Fictionalizing Anthropology: Encounters and Fabulations at the Edges of the Human. University of Minnesota Press
TG.
Official site of the band. Retrieved on April 5, 2017 from http://www.throbbing-gristle.com/
Refbacks
There are currently no refbacks.
ISSN Print 2499-9288
ISSN Online 2281-1605
Publisher Altrimedia Edizioni
Patronage University of Basilicata, Italy
Web Leonardo Di Benedetto
Periodico registrato presso il Tribunale di Matera, numero di registrazione 2/2014