Open Access

Subscription Access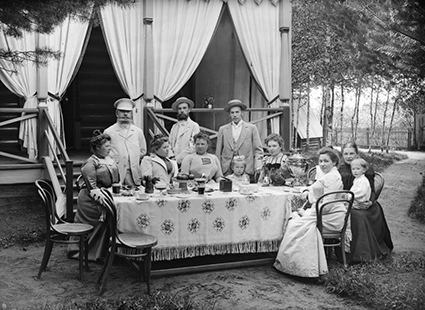 Collective and Collected Memory: Photography as Family History Reclamation in Soviet and Post-Soviet Russia
Abstract
The paper compares social functions and perspectives of family memory in the era of traditional media and that of user generated content through Web 2.0. Family photograph as a component of family history reconstructing projects made in the conditions of completely different communication technologies is in the focus of the paper. Project of Nikolai Schapov (1881-1960), amateur photographer and family historian, is put into comparison with the practices of users of the family social network FamilySpace.ru.
Keywords
family photographs; family history reconstruction; images collecting and sharing; memory; communication technologies; Internet; Russia.
Full Text:
PDF

References
ADAMS, Tony, and MANNING, Jimmie
Autoethnography and Family Research. Journal of Family Theory and Review, 7(4): 350-366.
ARTHUR, Paul
Trauma Online: Public Exposure of Personal Grief and Suffering. Traumatology, 15, no. 4: 65-75.
ASSMANN, Jan
Cultural Memory and Early Civilization: Writing, Remembrance, and Political Imagination. Cambridge University Press.
BIRKHOFER, Melissa D.
Voicing a Lost History through Photographs in Hispaniola's Diasporic Literature: Junot Díaz's "Aguantando" and Edwidge Danticat's "The Book of the Dead". The Latin Americanist, Vol. 52, Issue 1, March 2008: 43-53.
BOWKER, Geoffrey C.
The past and the Internet / In Structures of Participation in Digital Culture. Karaganis J. (ed.). New York: Columbia University Press. Pp. 20-38.
EDWARDS, Elizabeth
Photographs and the material performance of the past. History and Theory, 48(4), 130-150.
EDWARDS, Elizabeth
Photographs and the Sound of History. Visual Anthropology Review, Vol. 21, number 1 and 2, Spring/Fall 2005: 27-46
ETKIND, Aleksandr
Warped mourning: stories of the undead in the land of the unburied. Stanford: Stanford University Press.
HALBWACHS, Maurice
Les cadres sociaux de la memoire. Paris: Librairie Felix Alcan.
HIRSCH, Marianne
Family frames: Photography, narrative, and postmemory. Cambridge, Mass.: Harvard University Press.
HUDGINS, Nicole
A historical approach to family photography: class and individuality in Manchester and Lille, 1850-1914. Journal of Social History, Vol. 43, Issue 3: 559-586.
MANOVICH, Lev
The language of New Media. Cambridge, Mass.: The MIT Press. Pp. 24-43.
MEAD, George H.
The Nature of the Past. In Essays in Honor of John Dewey. John Coss (ed.). New York: Henry Holt & Co. pp. 235-42.
RICOEUR, Paul
Narrative Identity. Philosophy Today, Vol. 35, Issue 1: 73-81.
RUTTEN, Ellen, FEDOR, Julie, and Vera ZVEREVA (eds)
Memory, Conflict and New Media: Web Wars in Post-Socialist States. New York: Routledge.
SAVELIEVA, Irina & POLETAEV, Andrei
Istoriya i vremya. V poiskah utrachennogo. Moscow: Yazyki russkoy kultury.
SHCHAPOV, Nikolai
Ya veril v Rossiyu: semeynaya istoriya i vospominaniya. Moscow: Mosgorarhiv.
SONTAG, Susan
On Photography. New York: Farrar, Straus & Giroux.
WATSON, Rubie S. (ed.)
Memory, History, and Opposition under State Socialism. Santa Fe: SAR Press.
Refbacks
There are currently no refbacks.
ISSN Print 2499-9288
ISSN Online 2281-1605
Publisher Edizioni Museo Pasqualino
Patronage University of Basilicata, Italy
Web Salvo Leo
Periodico registrato presso il Tribunale di Palermo con numero di registrazione 1/2023