Open Access

Subscription Access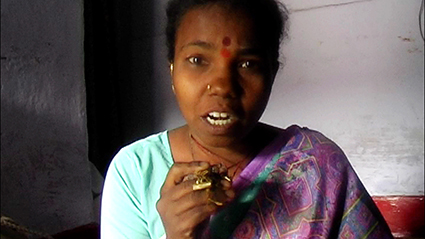 Visualising the Everyday: Participatory Filmmaking in Rural India
Abstract
Participatory visual research methods are increasingly used as a way to generate new forms of knowledge and to decrease the power differential between the researcher and researched. In this article, the author, who is
both a documentary filmmaker and academic, draws upon her research experience working with a group of women filmmakers in Andhra Pradesh in southern India. She filmed the women as they made their own film, but also asked four of them if they would use their cameras to film their everyday lives. Some of the women chose to challenge their husbands from behind the camera, while others in the group spoke openly about their lives in video diary interviews. This way of working generated five different sources of footage, which were edited together to form a coherent narrative and create a 'third voice'. The author discusses her findings and what she learnt from this process and considers the strengths and limitations of this form of research.


Keywords
Participatory filmmaking; documentary; video diaries; Indian women; the everyday
Full Text:
PDF

References
DE BEAUVOIR, Simone
The Second Sex. London: Penguin.
DERVIN, Brenda and HUESCA, Robert
Reaching for the communicating in participatory communications: a meta-theoretical analysis. In The Journal of
International Communication 4 (2): 46-74.
DOVEY, Jon
Freakshow: First Person Media and Factual Television. London: Pluto Press.
DOWMUNT, Tony
Autobiography and video diaries in 'post-documentary' culture, unpublished PhD thesis. Goldsmiths, University of
London.
FOUCAULT, Michel
The History of Sexuality: The Will to Knowledge. London: Penguin.
GADIHOKE, Sabeena
The Struggle to 'Empower': A Woman behind the Camera. In Shirley White, (ed.) Participatory Video: Images that
Transform and Empower. London: Sage.
GIBSON, Barbara Ellen
Co-producing Video Diaries: The Presence of the 'Absent' Researcher. In International Journal of Qualitative
Methods 2005, 4 (4).
GOFFMAN, Erving
The Presentation of Self in Everyday Life. Harmonsworth: Penguin.
GREGORY, Sam
Transnational Storytelling: Human Rights, WITNESS, and Video Advocacy. In American Anthropologist, Vol.
, No. 1, March 2006.
HENLEY, Paul
Film-making and Ethnographic Research. In Jon Prosser (ed.) Image-based Research: A Sourcebook for Qualitative
Researchers. London: Routledge Falmer
HIGHMORE, Ben (ed.)
The Everyday Life Reader. London: Routledge.
HOGAN, Susan and PINK, Sarah
Routes to Interiorities: Art Therapy and Knowing in Anthropology. In Visual Anthropology, 23:158-174.
HOLLIDAY, Ruth
We've been framed: Visualising methodology. In Sociological Review, 48(4) pp. 503-521.
IRVING, Andrew
Ethnography, Art and Death. In Journal of the Royal Anthropological Institute (n.s.)13:185-208.
IRVING, Andrew
Strange Distance: Towards an Anthropology of Interior Dialogue. In Medical Anthropology Quarterly, Vol 25, Issue
, pp.22-44, American Anthropological Association.
KILBORN, Richard
Staging the Real: Factual TV programming in the Age of Big Brother. Manchester: Manchester University Press.
PINK, Sarah
Doing Visual Ethnography. London: Sage.
RENOV, Michael
The Subject of Documentary. Minneapolis: University of Minnesota Press.
RUBY, Jay
Speaking for, speaking about, speaking with, or speaking alongside: an anthropological and documentary
dilemma. In Visual Anthropology Review, Volume 7, Number 2, Fall 1991, pp. 50-67.
RUSSELL, Catherine
Experimental ethnography: the Work of Film in the Age of Video. Durham: Duke University Press.
SUDBURY, Sue
Locating a 'third voice': participatory filmmaking and the everyday in rural india. In journal of media
practice.
WANG, Caroline, BURRIS, Mary Ann and PING, Xiang Yue
Chinese Village Women as Visual Anthropologists: A Participatory Approach to Reaching Policymakers. In Soc.
Sci. Med, Vol 42, No 10, pp. 1391-1400.
WEX, Marianne
Let's Take Back Our Space. Berlin: Movimento Druck.
WILES, R., PROSSER, J., BAGNOLI, A., CLARK, a., DAVIES, K., HOLLAND, S. And RENOLD, E.
Visual ethics: ethical issues in visual research, esrc national centre for research methods review paper.
Refbacks
There are currently no refbacks.
ISSN Print 2499-9288
ISSN Online 2281-1605
Publisher Edizioni Museo Pasqualino
Patronage University of Basilicata, Italy
Web Salvo Leo
Periodico registrato presso il Tribunale di Palermo con numero di registrazione 1/2023