Open Access

Subscription Access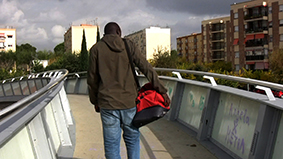 Moi, un noir. Reloaded
Abstract
Moi, un Noir. Reloaded, is a tribute to Jean Rouch, and provides an update / re-interpretation of Moi, un Noir, the film the French anthropologist made in 1957.
While the original film was directed to satisfy eager curiosity of the western gaze for knowledge about otherness from the safe distance of a film, Reloaded tries to minimize cultural differences and avoid the exotic, particularly in reference to corporeality.
The film seeks to work through two gazes simultaneously and not meet either of them. To the Western viewer, the pleasure of voyeuristic security is denied, showing lives that do not differ from their own, thus confronting them to consider whether as citizens they exercise that power position that legitimizes cultural difference as a producer of inequalities.
Non-Western viewers are urged to consider colonization as a historical period that is not closed, which like the capitalism that generated it is undergoing continuous mutations, allowing it to change its surface while maintaining the dynamics of domination and exploitation imply in it. We invite them to consider that, while it is true that the West offers the possibility of economic improvement, there is a high emotional and psychological cost for it.
Under these assumptions, the film plunges into the daily lives of the main characters, into their thoughts and reflections on their experiences as black, Muslim and immigrant subjects in contemporary Europe.
Keywords
video; Moi un noir; filmmaking
Full Text:
PDF

Refbacks
There are currently no refbacks.
ISSN Print 2499-9288
ISSN Online 2281-1605
Publisher Edizioni Museo Pasqualino
Patronage University of Basilicata, Italy
Web Salvo Leo
Periodico registrato presso il Tribunale di Palermo con numero di registrazione 1/2023