Open Access

Subscription Access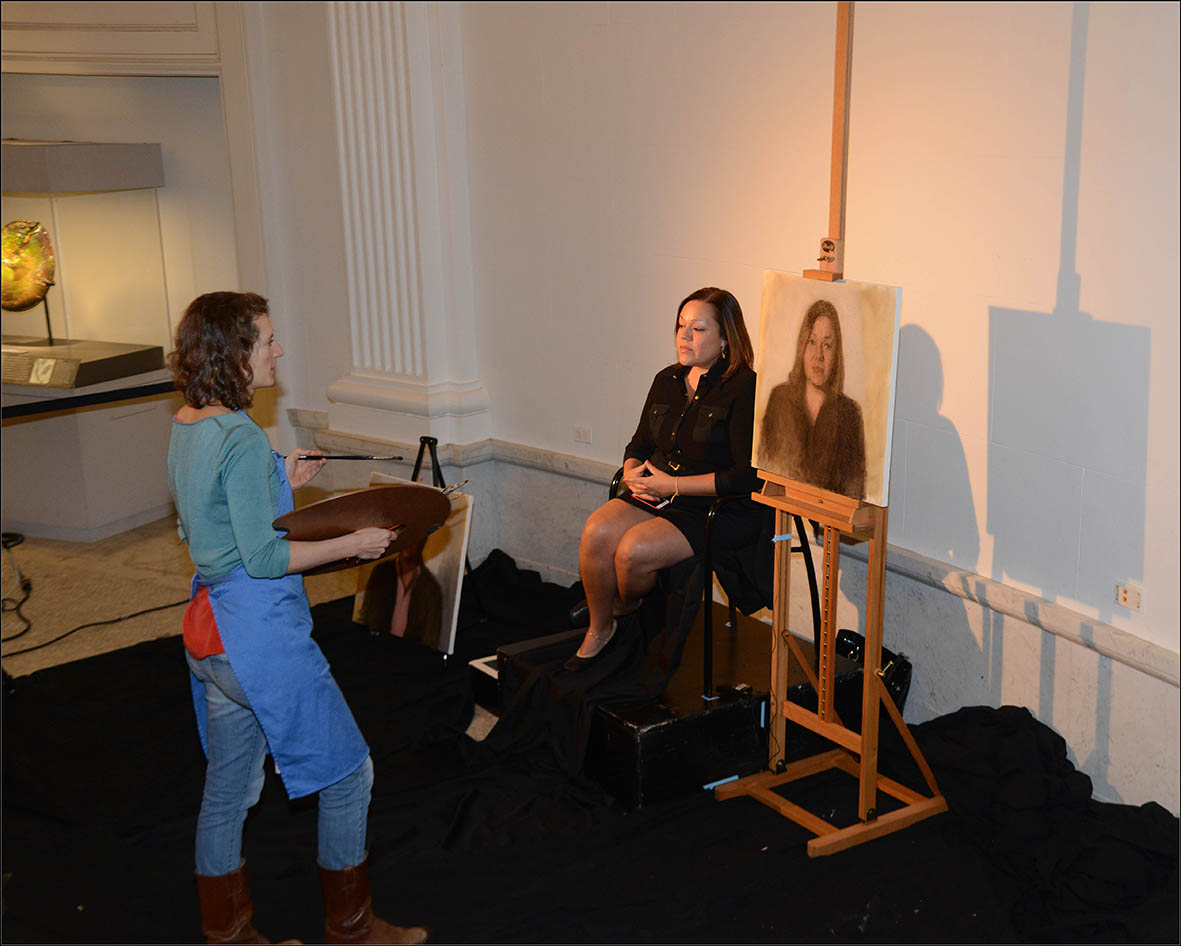 Ethnographic Portrait-Painting Today: Opening Up the Process at NYC's American Natural History Museum
Abstract
This article contributes to today's discussions on the collaboration between art and anthropology and the necessity for ethnographers working with art to expound on their methodological process. The article discusses the application of contemporary ethnographic practice on portrait-painting in the specific institutional setting of New York City's American Natural History Museum (AMNH), as a way to reflect on the norms and politics of representational forms and relations between the ethnographer, the 'informant' and the public. It reflects specifically on a curatorial experiment in which I took part, invited by the collective Ethnographic Terminalia at the AMNH, within the framework of the annual Margaret Mead Film Festival. The experiment involved installing a pop-up painting studio in the main hall of AMNH where I, as both a social anthropologist and a realist artist, would paint the portraits of two anthropologists over the course of three days. The experiment was to publicly expose the process of depicting a live human-being on canvas and examine what it might involve in terms of doing visual ethnography. The location of the AMNH for this experiment is significant because of its historical status as an authoritative place for displaying human cultures and their natural environment since the late 19th century. This article talks about the experiment in light of current discussions in anthropology on the transformation of the discipline as a co-production of knowledge utilizing multimodal approaches.
Keywords
Portrait-Painting; Multimodal Ethnography; American Natural History Museum; Ethnographic Terminalia; Collaboration; Visual Representation; Curatorial Practice
Full Text:
PDF

References
Bannerji, H. Returning the Gaze: Essays on Racism, Feminism and Politics. Toronto: Sister Vision Press, 1993.
Belting, Hans. Face and Mask: A Double History. Princeton University Press, 2017.
Berger, John. "Drawing Is Discovery." The New Statesman (1953). https://www.newstatesman.com/culture/art-and-design/2013/05/john-berger-drawing-discovery
Boyer, Dominic. Reflexivity Reloaded. https://www.academia.edu/414411/Reflexivity_Reloaded
Bray, Zoe. "Sculptures of Discord: Public Art and the Politics of Commemoration in the Basque Country." Public Art Dialogue, 4, no. 2 (2014a): 221-48.
Bray, Zoe. "Bringing 'New Wind' to the Rural Interior of the French Basque Country: The Association 'Haize Berri' and the Politics of Culture." BOGA: Basque Studies Consortium Journal, 1, no. 2 (2014b): 1-19.
Bray, Zoe. "Anthropology with a Paintbrush: Naturalist-Realist Painting as 'Thick Description'." Visual Anthropology Review, 31, no. 2 (2015a): 119-33.
Bray, Zoe, ed. Beyond Guernica and the Guggenheim: Relations between Art and Politics from a Comparative Perspective. Reno: Center for Basque Studies Press, 2015b.
Brew, Angela, and Michelle Fava, eds. Thinking through Drawing: Practice into Knowledge. New York: Teachers College, Columbia University, Art and Art Education Program, 2011.
Catlin, George. Letters and Notes on the North American Indians. Gramercy Books, 1975.
Causey, Andrew. "Drawing Flies: Artwork in the Field." Critical Arts: South-North Cultural and Media Studies, 26, no. 2 (2012): 162-74.
De Piles, Roger. Sur La Manière De Faire Les Portraits. La Rochelle: Rumeur des Ages, 2006.
Desjarlais, Robert R. Sensory Biographies: Lives and Deaths among Nepal's Yolmo Buddhists. University of California Press, 2003.
Errington, Shelly. "Exhibition Review Essay. Ethnographic Terminalia: 2009-10-11.", American Anthropologist, 114, no. 3 (2012): 538-42.
Hazen, Jacqueline. "Review of the 37th Annual Margaret Mean Festival, October 17-20, 2013", in Visual Anthropology Review, Vol. 30, Issue 1, pp. 92-95. 2014
Howe, Cymene and Stephanie Takaragawa. "Surprise." Theorizing the Contemporary, Cultural Anthropology ˆwebsite, July 27 2017. https://culanth.org/fieldsights/1173-surprise
Ingold, Tim. Being Alive: Essays on Movement, Knowledge and Description. London: Taylor & Francis, 2011.
Ingold, Tim. Redrawing Anthropology: Materials, Movements, Lines. London: Ashgate, 2013.
Ingold, Tim. "From Science to Art and Back Again: The Pendulum of an Anthropologist." ANUAC, 5, no. 1 (2016): 5-23.
Josephides, Lisette. Knowledge and Ethics in Anthropology: Obligations and Requirements. London: Bloomsbury Publishing, 2015.
Keating, Michael, and Zoe Bray. "Renegotiating Sovereignty: Basque Nationalism and the Rise and Fall of the Ibarretxe Plan", Ethnopolitics, 5, no. 4 (2006/11/01 2006): 347-64.
Klumpke, Anna. Rosa Bonheur: The Artist's (Auto)Biography. University of Michigan Press, 2001.
Kuper, Leo. The Pity of It All: Polarisation of Racial and Ethnic Relations. Duckworth, 1977.
Lassiter, Luke E. The Chicago Guide to Collaborative Ethnography. Chicago: University of Chicago Press, 2005.
Lonetree, Amy. Decolonizing Museums: Representing Native America in National and Tribal Museums. University of North Carolina Press, 2012.
Marcus, George E., and Fred R. Myers, eds. The Traffic in Culture: Refiguring Art and Anthropology: University of California Press, 1995.
Marcus, George E., and Michael M.J. Fischer. Anthropology as Cultural Critique: An Experimental Moment in the Human Sciences. University of Chicago Press, 1999.
Mytinger, Caroline. Headhunting in the Solomon Islands: Around the Coral Sea. Golden Springs Publishing, 2016.
Pink, Sarah. Doing Sensory Ethnography. London: Sage Publications, 2015.
Quinn, Stephen C., and American Museum of Natural History. Windows on Nature: The Great Habitat Dioramas of the American Museum of Natural History. Harry N. Abrams, 2006.
Qureshi, Sadiah. Peoples on Parade: Exhibitions, Empire, and Anthropology in Nineteenth-Century Britain. University of Chicago Press, 2011.
Rapport, Nigel. "Individualism." In Encyclopedia of Social and Cultural Anthropology, edited by A. Barnard and J. Spencer, London: Taylor & Francis, 2009.
Rapport, Nigel, and Morten Nielsen. "On the Genealogy of Writing Anthropology." Chap. Introduction, in The Composition of Anthropology: How Anthropological Texts Are Written, London: Routledge, 2017.
Rutten, Kris, An Van Dienderen, and Ronald Soetaert. "Revisiting the Ethnographic Turn in Contemporary Art", Critical Arts: South-North Cultural and Media Studies, 27, no. 5 (2013): 459-73.
Schneider, Arnd, and Christopher Wright. Between Art and Anthropology: Contemporary Ethnographic Practice. London: Berg, 2010.
Schneider, Arnd, and Christopher Wright. Anthropology and Art Practice. London: Bloomsbury, 2013.
Simpson, Audra. Mohawk Interruptus: Political Life across the Borders of Settler States. Duke University Press, 2014.
Sleeper-Smith, Susan. Ed. Contesting Knowledge: Museums and Indigenous Perspectives. UNP - Nebraska Paperback, 2009.
Sontag, Susan. On Photography. New York: Rosetta Books LLC, 2005.
Spears, Russell, Martin Lea, and Stephen Lee. "De-Individuation and Group Polarization in Computer-Mediated Communication." British Journal of Social Psychology 29, no. 2 (1990): 121-34.
Stewart, Kathleen. A Space on the Side of the Road: Cultural Poetics in an "Other" America. Princeton University Press, 1996.
Stewart, Kathleen. Ordinary Affects. Duke University Press, 2007.
Taussig, Michael. "What Do Drawings Want?". Culture, Theory and Critique, 50, no. 2-3 (2009): 263-74.
Todd, Zoe. "From Fish Lives to Fish Law: Learning to See Indigenous Legal Orders in Canada." Somatosphere (2016).
Vallejo, Aida, and María Paz Peirano. Film Festivals and Anthropology. Cambridge Scholar Publis, 2017.
Vargas-Cetina, Gabriela. Anthropology and the Politics of Representation. University of Alabama Press, 2013.
DOI:
http://dx.doi.org/10.12835/ve2018.1-0100
Refbacks
There are currently no refbacks.
ISSN Print 2499-9288
ISSN Online 2281-1605
Publisher Edizioni Museo Pasqualino
Patronage University of Basilicata, Italy
Web Salvo Leo
Periodico registrato presso il Tribunale di Palermo con numero di registrazione 1/2023