Open Access

Subscription Access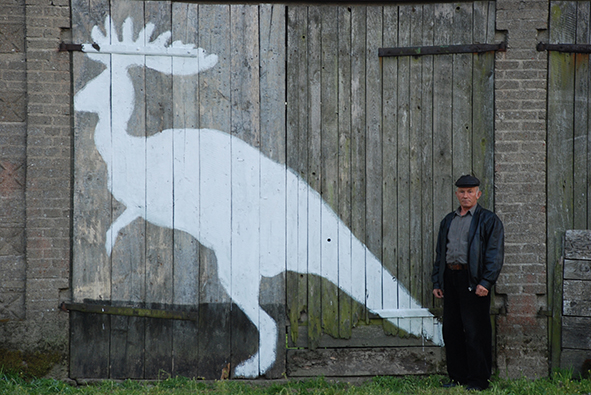 Animating local communities through artistic practices in Poland: the case of Daniel Rycharski's 'totemic' animal murals and 'Monument to the Peasants'
Abstract
This article is devoted to contemporary art and local communities. The author introduces the case of Daniel Rycharski's relational art projects, focusing on his 'totemic' animal murals (2012) and Pomnik Chłopa (Monument
to a Peasant, 2015). Drawing on ethnographic fieldwork conducted in the Rycharski's home village Kurówko near Sierpc in 2014-2015 (Central Poland) and in the cities of Cracow and Warsaw where his work was presented in 2015-2016, the article explores how Rycharski's artworks generate a nexus of social relationships.
Keywords
Rural Communities; Contemporary Art; Poland; Ethnography; Monuments
Full Text:
PDF

References
BOURRIAUD, Nicolas
Estetyka relacyjna, transl. by Ł. Białkowski.
Kraków: Muzeum Sztuki Współczesnej MOCAK.
DAUKSZA, Agnieszka
Bez tytułu o wsi. Teorie działań artystycznych.
Mała kultura współczesna. Accessed online,
March, 7-2016: malakulturawspolczesna.org/
/01/12/rozmowa-bez-tytulu-o-wsi-teorie
-dzialan-artystycznych/
DURKHEIM, Émile
The Elementary Forms of Religious Life, transl. by K. E. Fields. New York: Free Press.
GELL, Alfred
Art and Agency. An Anthropological Theory. Oxford and New York: Clarendon Press.
KLEKOT, Ewa
Samofolkloryzacja. Współczesna sztuka ludowa z perspektywy krytyki postkolonialnej. Kultura Współczesna, 1: 86–99.
KOT, Elżbieta
Z tych naszych Indian. Z Rochem Sulimą rozmawia Ewa Kot. Miesięcznik ZNAK, 694. Accessed online, March, 15-2017:
www.miesiecznik.znak.com.pl/694z-rochemsulima-rozmawia-elzbieta-kotz-tych-polskichindian/
KOWALSKI, Piotr
Kilka uwag o monstrach i potworach.
In Antropolog wobec współczesności. Tom w
darze Profesor Annie Zadrożyńskiej. A.
Malewska-Szałygin & M. Radkowska-Walkowicz
(eds). Warszawa: Instytut Etnologii i
Antropologii Kulturowej UW. Pp. 184-206.
KULIGOWSKI, Waldemar
A History of Polish Serfdom. Czas kultury, 3:
-127.
LEDER, Andrzej
Prześniona rewolucja. Warszawa: Wydawnictwo
Krytyki Politycznej.
LÉVI-STRAUSS, Claude
Totemism, transl. R. Needham. London:
Merlin Press.
ŁAGODZKA, Dorota
Street art na wsi. Magazyn Sztuki, 1: 133-138.
PIJARSKI, Krzysztof
Warsaw–Moscow. Monuments of Transition.
View. Theories and Practices of Visual Culture,
Accessed online, March, 7-2016:
pismowidok.org/index.php/one/article/
view/293/537
PLIŃSKA, Weronika
Lekcja historii. Pomnik Chłopa i Muzeum Alternatywnych Historii Społecznych Daniela Rycharskiego i Szymona Maliborskiego. Magazyn SZUM. Accessed online, March, 7-2017: magazynszum.pl/rozmowy/lekcja-historiipomnik-chlopa-i-muzeum-alternatywnych-historii-spolecznych-daniela-rycharskiego-i-szymona-maliborskiego
RADCLIFFE-BROWN, Alfred Reginald
The Sociological Theory of Totemism. In A. R. Radcliffe-Brown, Structure and Function in Primitive Society. Essays and Addresses. London: Cohen & West. Pp. 117-132.
SANSI, Roger
Art, Anthropology and the Gift, London: Bloomsbury.
SURAL, Agnieszka
Artists in the Photography and Visual Arts Category: Daniel Rycharski. Accessed online, March, 6-2017: culture.pl/en/artist/daniel-rycharski
TOMICCY, Joanna and Ryszard
Drzewo życia. Ludowa wizja świata i człowieka. Warszawa: Ludowa Spółdzielnia Wydawnicza.
DOI:
http://dx.doi.org/10.12835/ve2017.2-0089
Refbacks
There are currently no refbacks.
ISSN Print 2499-9288
ISSN Online 2281-1605
Publisher Edizioni Museo Pasqualino
Patronage University of Basilicata, Italy
Web Salvo Leo
Periodico registrato presso il Tribunale di Palermo con numero di registrazione 1/2023