Open Access

Subscription Access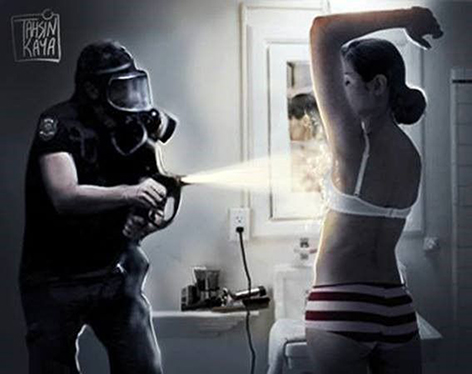 Techniques of Mobilisation: Dialectic Development of Sharedness through Virtual and On-The-Ground Practices
Abstract
When demonstrations swept the Anatolian heartland in 2013, social media played a key role in disseminating drawings, songs, stories and physical protest practices in a virtual sphere. From a material culture and performativity perspective, this article explores the mobilisation of individuals and unpacks how mobilisation took place in a dialectical process in parallel
with the creation of a cultural genre. This genre became a common denominator for the involved, and the article will describe how the different visual, virtual, humorous and physical manifestations as techniques
had capacities that mobilised and sustained engagement in the protests.
Keywords
Mobilisation; Material culture; Performativity; Diren; social movement; social media; virtual; humour; sensorial ethnography; cultural genre; netnography; cultural mobilisation; public protest
Full Text:
PDF

References
BERLINSKI, Claire
Erdoğan Over the Edge. City Journal,
Accessed online June 3, 2013.
www.city-journal.org/2013/eon0603cb.html
BHABHA, Homi K.
The Location of Culture. London: Routledge.
BRANAGAN, Marty
The Last Laugh: Humour in Community Activism.
Community Development Journal 42(4):
–481.
CARNEGY, Hugh - BARBER, Tony - DOMBEY, Daniel
France Breaks Turkey's EU Deadlock.
Financial Times, February 12. www.ft.com/intl/
cms/s/0/24ef5caa-7536-11e2-a9f3-00144feab
dc0.html, accessed January 15, 2014.
CLIFFORD, James
Introduction: Partial Truths. In Writing Culture:
The Poetics and Politics of Ethnography:
A School of American Research Advanced
Seminar. James Clifford and George E. Marcus,
eds. Pp. 1–26. Berkeley: University of California
Press.
The Predicament of Culture Twentieth-Century
Ethnography, Literature, and Art. Cambridge;
London: Harvard University Press.
CUNHA, Evandro - MAGNO, Gabriel - COMARELA,
Giovanni - et al.
Analyzing the Dynamic Evolution of Hashtags on
Twitter: A Language-Based Approach. In
Proceedings of the Workshop on Language in
Social Media (LSM 2011) Pp. 58–65.
www.aclweb.org/anthology-new/W/W11/W11
-07.pdf#page=68, Accessed October 9, 2013.
DAMSHOLT, Tine
Being Moved. Ethnologia Scandinavica:
A Journal for Nordic Ethnology 30: 24–48.
The Sound of Citizenship. Ethnologia Europaea
(1): 56–65.
DAMSHOLT, Tine – SIMONSEN, Dorthe Gert
Materialiseringer. Processer, relationer og
performativitet. In Materialiseringer Nye
perspektiver på materialitet og kulturanalyse.
Tine Damsholt, Camilla Mordhorst, and Dorthe
Gert Simonsen, eds. Århus, Copenhagen: Aarhus
University Press.
DAVIES, Charlotte Aull
Reflexive Ethnography a Guide to Researching
Selves and Others. London; New York: Routledge.
Internet Ethnography. In Reflexive Ethnography:
A Guide to Researching Selves and Others.
Second edition. Pp. 151–170. London: Routledge.
EHN, Billy – LÖFGREN, Orvar
The Secret World of Doing Nothing. Berkeley:
University of California Press.
FLEISHMANON, Cooper
CNN-Turk Airs Penguin Documentary during
Istanbul Riots. The Daily Dot.
www.dailydot.com/news/cnn-turk-istanbul
riots-penguin-doc-social-media
Accessed October 24, 2013.
G., Esra
#Duranadam Aka #Standingman. Blog.
Scout Network Blog. www.scoutnetworkblog.
com/2013/08/18909/duranadam-aka-standing
man/, Accessed August 20, 2013.
HARAWAY, Donna
Situated Knowledges: The Science Question in
Feminism and the Privilege of Partial Perspective.
Feminist Studies 14(3): 575–599.
HARDING, Luke
Turkish Protesters Embrace Erdoğan Insult and
Start "Capuling" Craze. The Guardian, Jun 10.
www.theguardian.com/world/2013/jun/10/
turkish-protesters-capuling-erdogan
Accessed April 1, 2014.
HURRIYET Daily News
a At Least 20 Lawyers Detained in Istanbul
for Supporting Gezi Park Protests. Hurriyet
Daily News. www.hurriyetdailynews.com/
at-least-20-lawyers-detained-in-istanbul-forsupporting-
gezi-park-protests.aspx?pageID=2
&nID=48598&NewsCatID=341,
Accessed June 11, 2013.
b Turkish Government's Judicial Packages Fail
to Transform System: Report. Hurriyet Daily
News, September 23. www.hurriyetdailynews.
com/turkish-governments-judicial-packagesfail-
to-transform-system-report.aspx?PageID=
&NID=55000&NewsCatID=339,
accessed January 17, 2014.
İBIKOĞLU, Arda
The Garden of Speculating Cats: Protest Humor:
"Let's Use Disproportionate Intelligence! Blog.
Arda Ibikoglu. ardaibikoglu.blogspot.dk/2013/
/protest-humor-lets-use-improportinate.html
Accessed July 6, 2013.
İZ, Fahir, - HONY, H. C. - ALDERSON, A. D.
The Oxford Turkish Dictionary. Reprint 1995.
Oxford; New York: Oxford University Press.
JOHNSTON, Hank - NOAKES, John A.
Frames of Protest: Social Movements and the
Framing Perspective. Rowman & Littlefield
Publishers.
KLANDERMANS, Bert
Mobilization and Participation:
Social-Psychological Expansions of Resource
Mobilization Theory. American Sociological
Review 49(5): 583–600.
KRAMER, Chris A.
An Existentialist Account of the Role of Humor
against Oppression. Humor 26(4): 629–651.
LAW, John
On the Subject of the Object: Narrative,
Technology, and Interpellation. Configurations
(1): 1–29.
Actor Network Theory and Material
Semiotics. In The New Blackwell Companion
to Social Theory. Bryan S. Turner, ed. Pp.
–158. Wiley-Blackwell. onlinelibrary.wiley.
com/doi/10.1002/9781444304992.ch7/summary,
Accessed October 3, 2013.
LAW, John – RUPPERT, Evelyn – SAVAGE, Mike
Digital Devices: Nine Theses. In CRESC
Working Paper Series. Centre for Research
on Socio-Cultural Change, The University of
Manchester/CRESC, Open University.
eprints.gold.ac.uk/7988/,
Accessed October 3, 2013.
LENS, Jesús
Duranadam. Blog. Pateando El Mundo.
www.granadablogs.com/pateandoelmundo/
duranadam/, Accessed July 10, 2013.
LETSCH, Constanze
Tarlabasi Is Renewed. NearEastQuarterly.
www.neareastquarterly.com/index.php/2011/
/11/tarlabasi-is-renewed/, accessed July 1, 2013.
MILLER, Daniel
Stuff. Cambridge, UK: Polity Press.
MITCHELL, Jon P.
Performance. In Handbook of Material
Culture. Christopher Y Tilley, ed. Pp. 384–401.
Los Angeles, Calif. ; London: SAGE.
NAVARO-YASHIN, Yael
Faces of the State: Secularism and Public Life in
Turkey. Princeton University Press.
PEW GLOBAL ATTITUDES PROJECT
Social Networking Popular Across Globe: Arab
Publics Most Likely to Express Political Views
Online. Global Attitudes Project. Washington
D. C., USA: Pew Research Center.
www.pewglobal.org/files/2012/12/Pew-Global-
Attitudes-Project-Technology-Report-FINALDecember-
-2012.pdf, accessed July 7, 2013.
PINK, Sarah
Doing Sensory Ethnography. Los Angeles;
London: SAGE.
REPORTERS WITHOUT BORDERS
2013 Press Freedom Index. Paris, France:
Reporters Without Borders.
fr.rsf.org/IMG/pdf/classement_2013_gb-bd.pdf
accessed August 7, 2013.
ROKKA, Joonas
Netnographic Inquiry and New Translocal Sites
of the Social. International Journal of Consumer
Studies 34(4): 381–387.
SANDBERG, Marie
Grænsens nærvær og fravær: europæisering
sprocesser i en tvillingeby på den polsk-tyske
grænse. Ph.d., Det Humanistiske Fakultet,
Københavns Universitet.
SINGER, Sean R.
The Struggle for Istanbul, The American
Interest, June 6. www.the-american-interest.com/
article.cfm?piece=1445, accessed July 4, 2013.
SUNDERLAND, Patricia. L, and DENNY, Rita M.
Doing Anthropology in Consumer Research.
Walnut Creek, CA: Left Coast Press.
TUCKER, Joshua
A Breakout Role for Twitter? Extensive Use
of Social Media in the Absence of Traditional
Media by Turks in Turkish in Taksi Square
Protests. Blog. The Monkey Cage.
themonkeycage.org/2013/06/01/a-breakoutrole-
for-twitter-extensive-use-of-social-mediain-
the-absence-of-traditional-media-by-turksin-
turkish-in-taksim-square-protests/,
Accessed October 2, 2013.
TUFEKCI, Zeynep
"Come, Come, Whoever You Are." As a Pluralist
Movement Emerges from Gezi Park in
Turkey. Blog. Technosociology.
technosociology.org/?p=1421,
Accessed July 1, 2013.
ULUDAĞ, Sözlük
Duran Adam. Community site. Uludağ Sözlük
galeri.uludagsozluk.com/r/duran-aam-463094/,
Accessed July 10, 2013.
VENTURINI, Tommaso
Diving in Magma: How to Explore Controversies
with Actor-Network Theory. Public
Understanding of Science 19(3): 258–273.
WALSH, Katie
"Dad Says I'm Tied to a Shooting Star!"
Grounding (research On) British Expatriate
Belonging. Area 38(3): 268–278.
WHITE, Jenny
Muslim Nationalism and the New Turks.
Princeton University Press.
DOI:
http://dx.doi.org/10.12835/ve2017.1-0079
Refbacks
There are currently no refbacks.
ISSN Print 2499-9288
ISSN Online 2281-1605
Publisher Edizioni Museo Pasqualino
Patronage University of Basilicata, Italy
Web Salvo Leo
Periodico registrato presso il Tribunale di Palermo con numero di registrazione 1/2023