Open Access

Subscription Access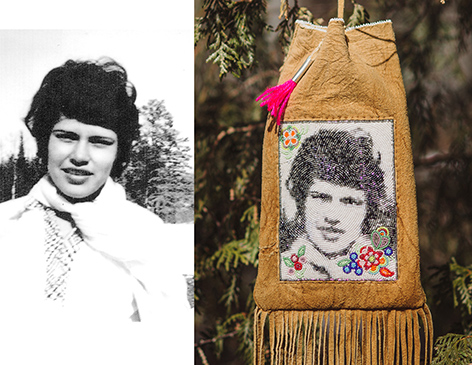 The Day My Photographs Danced: Materializing Photographs of My Anishinabe Ancestors
Abstract
This research explores the role of Anishinabe photographs as distinct material things, in Anishinabeg memory production. Through the materialization and transformation of six (6) photographs of her ancestors, the author as an Anishinabekwe (Ojibwe) artist/ researcher, draws upon performative and embodied aspects of Anishinabeg ways of knowing, emphasizing the agency of the materials worked with in the process of meaning-making. Research findings stress the importance of conceptualizing Anishinabeg memory as a visceral, relational, intuitive, creative, and sensorial experience to strengthening relationships to the ancestral past, now and into the future. By locating Anishinabeg photographs as distinct Indigenous things—things that can be worked with as opposed to simply "read"— the author transcends ontological and methodological limitations often associated with photographs in order to trace or "stitch" through the different relationships between actuants made visible, sensible and knowable through a material and phenomenological oriented approach that is informed her identity and cultural teachings.
Keywords
Anishinabeg; photography; materiality; memory; regalia; Indigenous; Ojibwe
Full Text:
PDF

References
BANKS, M.
Visual anthropology: Image, object and
interpretation. In J. Prosser (Ed.), Image-based
research: A sourcebook for qualitative
researchers (pp. 6-19). London: UK Falmer Press.
BARBER, K.
Improvisation and the art of making things
stick. In T. Ingold & E. Hallam (Eds.), Creativity
and Cultural Improvisation, (pp. 25-41).
Oxford: Berg.
BARTHES, R.
Camera Lucida: Reflections on photography.
Hill and Wang: New York, NY.
BELL, J. A.
Out of the mouths of crocodiles: Eliciting
histories in photographs and string-figures.
History and Anthropology, 21(4), 351-373.
Promiscuous things: Perspectives on cultural
property through photographs in the Purari
delta of Papua New Guinea. International
Journal of Cultural Property, 15, 123-139.
BELTING, H.
Image, medium, body: a new approach to
iconology. Critical Inquiry 31, 302-319.
BENNETT, J.
Vibrant matter: A political ecology of things.
Duke University Press.
The agency of assemblages and the North
American blackout. Public Culture,17(3), 445-466.
BERKOFER, D.
'Trace memories': Clothing as metaphor in the
works of Doris Salcedo'. Amnesia. Oberlin:
Allen Memorial Art Museum.
BUNN, S.
Materials in Making. In T. Ingold (Ed.),
Redrawing anthropology: Materials,
movements, lines, (pp. 21-32). Surrey: Ashgate.
COLEMAN, R.
'Be(come) yourself only better':
Self-transformation and the materialization of
images. In L. Guillame & J. Hughes (Eds.),
Deleuze and the body. Edinburgh: University of
Edinburgh Press.
BROWN, B.
Thing theory. Critical Inquiry, 28(1), 1-22.
CONNERTON, P.
How societies remember. UK: Cambridge
University Press.
COOMBES, A.
Making history memorable. In History after
apartheid: Visual culture and public memory in
democratic South Africa. USA
CORBIERE, A. - MIGWANS, C.
Animikii miiwaa mishibizhiw: Narrative images
of the thunderbird and the underwater panther.
In D. W. Penney and G. McMaster (Eds.), Before
and after the horizon: Anishinaabe artists of
the Great Lakes. (pp. 37-50). Washington, DC:
National Museum of the American Indian,
Smithsonian Institution.
EDWARDS, E.
Objects of Affect: Photography Beyond the Image.
Annual Review of Anthropology, 41, 221-234.
Photographs and the material performance of
the past. History and Theory, 48(4), 130-150.
Material beings: Objecthood and ethnographic
photographs. Visual Studies, 17(1), 67-75.
Making Histories: The Torres Strait Expedition
of 1898. Pacific Studies, 20(4):13-34.
ERDRICH, Louise
Books and Islands in Ojibwe Country.
Washington: National Geographic.
FREEMAN, L. - NIENASS, B. - DANIEL, R.
Editorial. Memory Studies, 9(1), 3-12.
FRIEDMAN, J.
Muscle memory: Performing embodied
knowledge. In R.C. Smith (Ed.), Text and
Image: Art and the performance of memory.
New Brunswick, USA: Transaction Publishers.
GELL, A.
The problem defined: The need for an
anthropology of art. In Art and Agency
(pp.12-27). Oxford: Oxford University Press.
GILLESPIE, S. D.
Maya memory work. Ancient Mesoamerica,
(2), 401-414.
GLASS, A.
A cannibal in the archive: performance,
materiality, and (in)visibility in unpublished
Edward Curtis photographs of the
Kwakwaka'wakw Hamat'sa. Visual Anthropology
Review, 25(2): 128-149.
GRIMSHAW, A. - RAVETZ, A.
Introduction. In A. Grimshaw & A. Ravetz
(Eds.), Visualizing anthropology (pp. 69-80).
Portland, Oregon: Intellect.
HEVENOR, J.
, December 8 Traces of the past [Blog].
Retrieved from www.pier21.ca/blog/jenniferhevenor/
traces-of-the-past
DEAN, J.
, May 7 When the self emerges: Is that me in
the mirror? [Web log comment]. Retrieved from
www.spring.org.uk/the1sttransport
HIRSCH, M.
The generation of postmemory: Writing and
visual culture after the holocaust. New York:
Columbia University Press.
INGOLD, T.
Making: Anthropology, archaeology, art and
architecture. New York, NY: Routledge.
Worlds of sense and sensing the world: A
Response to Sarah Pink and David Howes.
Social Anthropology/Anthropologie Sociale,
(3), 313-317.
Bringing things to life: Creative entanglements
in a world of materials. Working paper #15.
Realities: Part of the ERSC National Centre
for Research Methods, 1-14.
Materials against materiality. Archaeological
Dialogues, 14(1): 1-16.
INGOLD, T. - HALLAM, E.
Creativity and the Art of Improvisation: An
Introduction. In T. Ingold & E. Hallam, (Eds.),
Creativity and Cultural Improvisation (pp. 1-24).
Oxford: Berg.
KEANE, W.
Signs are not the garb of meaning: On the social
analysis of material things. In D. Miller (Ed.),
Materiality (pp. 182-205). Durham and
London: Duke University Press.
LEAVY, P.
Method meets art: Arts-based research practice.
New York, NY: The Guilford Press.
JEFFRIES, J.
Introduction. In J. Jeffries, D. W. Conroy, H. & H.
Clark (Eds.), The handbook of textile culture
(pp. 3-16). London, UK: Bloomsbury.
Johnson, K.
Performing pasts for present purposes:
Reenactment as embodied performative history.
In D. Dean, Y. Meerzon, & K. Prince (Eds.),
History, memory, performance (pp. 36-52).
New York, NY: Palgrave Macmillan.
JONES, A.
Memory and material culture. UK:
Cambridge University Press.
KNAPPETT, C.
Networks of Objects, Meshworks of Things. In T.
Ingold (ed.), Redrawing Anthropology
Materials, Movements, Lines (pp. 45-63).
Surrey, England: Ashgate.
KUCHLER, S. - MELION, S.
Images of memory: On remembering and
representation. USA: Smithsonian Institution
Press.
LATOUR, B.
Reassembling the social. An introduction to
Actor-Network Theory. Oxford: Oxford
University Press.
MARSDEN, D.
Expanding knowledge through dreaming,
wampum and visual arts. Pimatisiwin: A Journal
of Aboriginal and Indigenous Community
Health, 2(2), 53-73.
MCGLENNEN, M.
Horizon lines, medicine painting, and moose
calling: The visual/performative storytelling
of three Anishinaabeg artists. In D. W. Penney
and G. McMaster (eds.), Before and after the
horizon: Anishinaabe artists of the Great Lakes.
(pp. 341-362). Washington, DC: National
Museum of the American Indian, Smithsonian
Institution.
MCGUINNESS, S.
Lived lives: Materializing stories of young Irish
suicide. In J. Jeffries, D. W. Conroy, H. & H.
Clark (Eds.), The handbook of textile culture
(pp. 149-164). London, UK: Bloomsbury.
MILLER, D.
Theories of Things. In Stuff (pp. 42-78).
Cambridge UK: Polity Press.
MITCHELL, W. J. T.
What do pictures want? The lives and loves of
images. Chicago: University of Chicago Press.
OPPENHEIM, R.
Actor-network theory and anthropology after
science, technology, and society. Anthropological
Theory, 7(4), 471-493.
OWEN, E.
Give me a call. In A. Grimshaw & A. Ravetz
(Eds.), Visualizing anthropology (pp. 81-89).
Portland, Oregon: Intellect.
PAJACZKOWSKA, C.
Making known: The textiles toolbox:
Psychoanalysis of nine types of textile thinking.
In J. Jeffries, D. W. Conroy, H. & H. Clark (Eds.),
The handbook of textile culture (pp. 79-96).
London, UK: Bloomsbury.
PEDRI. C.
'The drum is my document': Decolonizing
research through Anishinabe song and drum.
International review of qualitative research,
(4), 385-406.
PEDRI-SPADE, C.
Waasaabikizoo: Our pictures are good
medicine. Decolonization, Indigeneity,
Education and Society, 5(1), 45-70.
PEDRI, C.
Nametoo: Evidence that he/she is/was present.
Decolonization, Indigeneity, Education, and
Society, 3(1), 73-100.
Pedri, C. (Producer) & PEDRI, C. (Director).
Gna-Giigadowin: Exploring our way of life
through Anishinabe song and drum
[Ethnographic Film]. (Available from
innovative-learning.publicethnography.net/
projects/gna-giidadowin-exploring-our-waylife-
through-anashinabe-song-and-drumceleste-
pedri
PINK, S.
Doing sensory ethnography. Thousand Oaks,
CA: Sage Publications Ltd.
PINNEY, C.
Materiality: An introduction. Things happen or
from which moment does that object come? In
D. Miller (Ed.), Materiality (pp. 256-272).
London, UK: Duke University Press.
PORTO, N.
Under the gaze of the ancestors: Photographs
and performance in colonial Angola. In E.
Edwards & J. Hart (Eds.), Photographs Objects
Histories: On the materiality of images
(pp. 113-131). New York, NY: Routledge.
ROBERTSON, C.
Body politics and the art of Norval Morriseau.
Canadian Art Review, 32(1/2), 70-78.
ROBERTS, M. N. - ROBERTS, A. N.
Memory and Luba art and the making of history.
African Arts, 29 (1), 22-35.
SCHNEIDER E.
Performance remains. In A. Jones & A.
Heathfield (Eds.), Perform, repeat, record
(pp. 138-150). Bristol, UK: Intellect.
SCHNEIDER, A. - WRIGHT, C.
Anthropology and art practice.
London: Bloomsbury.
Between art and anthropology: Contemporary
ethnographic practice. New York, NY: Berg.
SOYINI MADISON, D.
Critical ethnography. Thousand Oaks, CA: Sage.
STALLYBRASS, P.
Worn worlds: Clothes, mourning, and the life of
things. The yale review, 81, 35-75.
STOLLER, Paul.
"The Bureau of Memories: Archives and
Ephemera." Fieldsights - Visual and New Media
Review, Cultural Anthropology Online, March
, 2015, www.culanth.org/fieldsights/647-thebureau-
of-memories-archives-and-ephemera
STOLLER, P.
Embodying colonial memories: Spirit
possession, power, and the Hauka in West
Africa. New York, NY: Routledge.
TROUILLOT, M.
Silencing the Past. Power and the Production of
History. Chapter 3: "An Unthinkable History.
The Haitian Revolution as a Non-Event".
(pp. 70-107). Boston: Beacon Press.
WHITE, B.
We are at home: Pictures of the Ojibwe people.
St. Paul, MN: Minnesota Historical Society Press.
WILMOTT, C.
The lens of science: Anthropometric
photography and the Chippewa, 1890–1920,
Visual Anthropology, 18, 309–337.
WILSON, S.
Research is Ceremony: Indigenous Research
Methods. Canada: Fernwood Publishing.
WRIGHT, C.
Faletau's photocopy or the mutability of visual
history in Roviana. In C. Morton & E. Edwards
(Eds.), Photography, anthropology and history:
Expanding the frame (pp. 146–149). Burlington,
VT: Ashgate.
DOI:
http://dx.doi.org/10.12835/ve2017.1-0078
Refbacks
There are currently no refbacks.
ISSN Print 2499-9288
ISSN Online 2281-1605
Publisher Edizioni Museo Pasqualino
Patronage University of Basilicata, Italy
Web Salvo Leo
Periodico registrato presso il Tribunale di Palermo con numero di registrazione 1/2023