Open Access

Subscription Access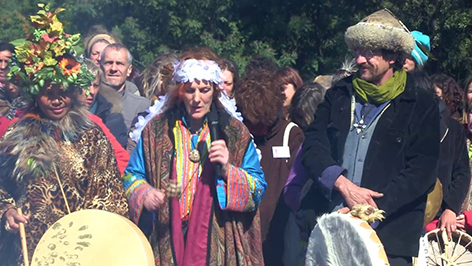 L'os creux, le film et le tambour. Approche filmique et expérientielle du chamanisme
Abstract
Shamanism, associated to cosmological imaginaries and particular aesthetics, can be defined by a set of dispositions proper to the shaman to allow him/her to establish a communication between humans and non-humans. Artefacts, sound manifestations, inside and outside body movements, tend to report this relation to the invisible that incarnates into the matter and bodies. The making of a documentary film on shamanism in France sets the basis for a new research field and demonstrates the necessity to work on the commitment of the researcher and of the lived experience in a situation of immersion and even initiation.
Keywords
Experiential Anthropology; Psychocorporeal; Anthropology of Feelings; Visual Anthropology; Shamanism
Full Text:
PDF

References
ANDRIEU, Bernard
Les corps participants, agence épistémique et
écologie expérientielle dans les recherches en
STAPS depuis 2000», Staps, n. 91, p. 77-86.
BAUD, Sébastien (sous la direction de)
Anthropologies du corps en transes. Paris:
Connaissances et Savoirs.
CARATINI, Sophie
Les non-dits de l'anthropologie, suivi de Dialogue
avec Maurice Godelier, Paris: éd. Thierry
Marchaisse.
CASTAING-TAYLOR, Lucien
Iconophobia: How Anthropology Lost It at the
Movies. Transition, n°69, p. 64-68.
CASTANEDA, Carlos
(1968) The Teachings of Don Juan: A Yaqui Way
of Knowledge. Berkeley: University of California.
CLIFFORD, James - GEORGES, Marcus (eds.)
Writing Culture: the Poetics and Politics of
Ethnography, Berkeley and Los Angeles,
California: University of California Press.
COLLEYN, Jean-Paul,
Fiction et fictions en anthropologie, L'Homme,
n°175-176, p.147-164.
COX, Ruppert - Wright - Chsitopher - Irving, Andrew (eds.)
Beyond Text: critical pratice ans sensory
anthropology? Manchester, UK:
Manchester University Press.
DE HASQUE, JeanPierre
Corps filmant, corps dansant,
Parcours anthropologiques [En ligne], mis en
ligne le 30 septembre 2014, consulté le 01
octobre 2014.
DESCOLA, Phiippe
Par-delà nature et culture, Paris: Gallimard.
DUC, Lara
Quand le terrain débarque chez l'ethnologue,
un grand frère initié et un mari «en transe»
in Baud, S.(dir.), Anthropologies du Corps en
Transes, Paris: Connaissances et Savoirs.
FAVRET-SAADA, Jeanne
Les mots, la mort, les sorts. La sorcellerie dans
le Bocage, Paris: Bibliothèque des Sciences
humaines, Gallimard.
FRANCE, Claudine de
Cinéma et anthropologie, Paris: MSH.
GEERTZ, Clifford,
The Interpretation of Cultures, Selected Essays,
New York: Basic Books.
HALLOY, Aranud
Un anthropologue en transe: du corps comme
outil d'investigation ethnographique, in J. Noret
et P. Petit (dir.), Corps, performance, religion,
Études offertes à Philippe Jespers, Paris:
Éditions Publibook, p. 87-115.
HAMAYON, Roberte
«Pour en finir avec la "transe" et l'"extase" dans
l'étude du chamanisme», Études mongoles et
sibériennes, n° 26 (Variations chamaniques 2),
Nanterre, Paris: p 155-190.
HERT, Philippe
Art, Anthropologie et corps: la réflexivité du
chercheur… et celle du clown. Espaces réflexifs
[carnet de recherche].
reflexivites.hypotheses.org/815
IRVING, Andrew
Aux confins de la science, ethnographiques.org,
n°30, Mondes ethnographiques [en ligne].
www.ethnographiques.org/2015/Irving
(consulté le 15.09.2016)
LALLIER, Christian
L'observation filmante. Une catégorie de
l'enquête ethnographique, L'Homme 2,
n°198-199, p.105-130.
LAPLANTINE, François
La description ethnographique, Paris:
Editions Nathan.
LE BRETON, David
Pour une anthropologie des sens, Vie sociale et raitements, 4, n° 96, p. 45-53.
LUHRMANN, T.M.
How do You Learn to Know That It Is God Who
Speaks? in D. Berliner et R. Sarro (dir.),
Learning Religion: Anthropological
Approaches. New York: Berghahn, p. 83-102.
MACDOUGALL, David
The Corporeal Image: Film, Ethnography,
and the Senses, Princeton: Princeton University Press.
MAQUET, Jacques
«Warrior or scholar?» in American
Anthropologist, n°80, p. 362-363.
MAUSS, Marcel
Les techniques du corps, Journal de Psychologie,
XXXII, ne, 3-4. Communication présentée à la
Société de Psychologie le 17 mai 1934.
MERLEAU-PONTY, Maurice
Sens et non-sens, Paris: Nagel.
MERLI, Laetitia
De l'ombre à la lumière, de l'individu à la nation.
Ethnographie du renouveau chamanique en
Mongolie postcommuniste, Paris: Ecole pratique
des hautes études, Centre d'études Mongoles et
Sibériennes, Coll. Nord-Asie.
MIDOL, Nancy
Ecologie des transes, préface de François
Laplantine, Paris: Téraèdre,
Coll. L'Anthropologie au coin de la rue.
MOTTIER, Damien
Mettre en scène l'observation, Journal des
anthropologues, n°130-131, p. 235-259.
OLIVIER DE SARDAN, Jean-Pierre
Le " je " méthodologique. Implication et
explicitation dans l'enquête de terrain, Revue
française de sociologie, n°41-3, p. 417-445.
PETITMENGIN, C.
L'expérience intuitive, avec la préface de Francisco
Varela, Paris, L'Harmattan.
PÉTONNET, Colette
L'Observation flottante. L'exemple d'un
cimetière parisien, L'Homme, Etudes
d'anthropologie urbaine, vol. 22, n°4, p. 37-47.
POTEL, C.
Du contre-transfert corporel. Une clinique
psychothérapeutique du corps, Paris: Erès.
SANSOT, P.
Poétique de la ville, Klincksieck, Réédition
Petite Bibliothèque Payot, 2004.
TEDLOCK, Barbara
Time and the Highland Maya, New Mexico:
Uni. of New Mexico Press.
TURNER, Aaron
Embodied Ethnography. Doing Culture, Social
Anthropology, Vol. 8, n°1, p. 51-60.
TURNER ,Victor
The Anthropology of Performance, New York,
PAJ Publications.
VARELLA, Francisco & SHEAR
The View from Within, Exeter, Imprint Academy
VIGARELLO, Georges
Le sentiment de soi. Histoire de la perception
du corps XVIe-XXe siècle, Paris: Seuil.
DOI:
http://dx.doi.org/10.12835/ve2017.1-0076
Refbacks
There are currently no refbacks.
ISSN Print 2499-9288
ISSN Online 2281-1605
Publisher Edizioni Museo Pasqualino
Patronage University of Basilicata, Italy
Web Salvo Leo
Periodico registrato presso il Tribunale di Palermo con numero di registrazione 1/2023