Open Access

Subscription Access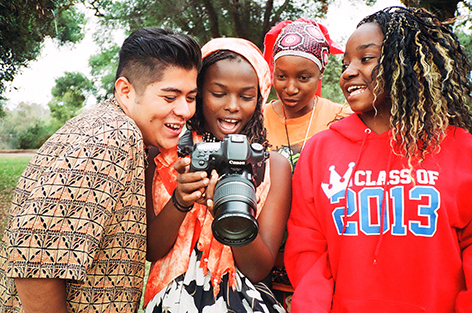 Framing a Story of Possibilities: The Subjective Mood of a Participatory Photography Project in San Diego, United States
Abstract
The article investigates the dynamics of photographic production by refugee and immigrant youth in a participatory photography project in San Diego, United States (The AjA Project). Based on five months of fieldwork and the concepts of 'the takeable photograph' and 'the subjunctive mood', it examines under what ideals the photographic production takes place. I argue that there are particular 'takeable' photographs in AjA framed by the emic concept of story and defined in opposition to students' private photographs. 'Takeable' photographs are produced in and aim for the subjunctive mood to instill the process with a potential for positive change.
Keywords
Participatory photography: immigrant & refugee youth; the subjunctive mood; narratives; San Diego; United States
Full Text:
PDF

References
AJA PROJECT
Annual Report - The AjA Project. Accessed
online, September 13, 2014: issuu.com/
ajaproject/docs/aja_annualreport_2010
a Organization. Accessed online, September 13, www.ajaproject.org/html/organization.html
b Method. Accessed online September 15, 2014: www.ajaproject.org/html/method.html
BANKS, Marcus
Visual Methods in Social Research.
London & Los Angeles: SAGE.
BALLERINI, Julia
Photography as a Charitable Weapon: Poor Kids
and Self- Representation. Radical History
Review, No. 69, pp. 161-188.
BELZ, Emily
Whose Pictures Are These? The Ethics of
Participatory Photography. M.A. thesis,
Department of Teaching + Learning in Art +
Design, Rhode Island School of Design.
BLACKMAN, Anna - FAIREY, Tiffany
The Photovoice Manual: A Guide to Designing
and Running Participatory Photography
Projects. London: Photovoice.
BOURDIEU, Pierre
[1965] Introduction, The cult of Unity and
Cultivated Difference & The Social Definition of Photography. In: Photography: A Middle-brow Art. Bourdieu, Pierre (ed.), pp. 1-10, 13-72,73-98.
Oxford & Cambridge: Polity Press.
Towards a Sociology of Photography. Visual
Anthropology Review, Vol. 7, No. 1, pp. 129-133.
BOWLES, Edith
From village to camp: Refugee camp life in
transition on the Thailand-Burma Border.
Forced Migration: Review, Issue 2, pp. 11-14.
BRAMSEN, Maren
Kunstens dialogiske potentiale, En analyse af
Point and Shoot - a social photographic project.
M.A. thesis, department of Art & Cultural
Studies, University of Copenhagen.
BRUNER, Jerome
Actual Minds, Possible Worlds. Cambridge
London: Harvard University Press.
Acts of Meaning. Cambridge & London:
Harvard University Press.
CANAL, Gemma Orobitg
Photography in the Field: Word and Image in
Ethnographic Research. In: Working images:
Visual research and representation in
Ethnography. Sarah Pink, László Kürti,
Ana Isabel Afonso (eds.), pp. 31-46. London:
Routledge.
CARLSON, Elisabeth D - ENGEBRETSON, Joan
CHAMBERLAIN, Robert M.
Photovoice as a Social Process of Critical
Consciousness. Qualitative Health Research,
Vol. 16, No. 6, pp. 836-852.
CARR, E. Summerson
Rethinking Empowerment Theory Using a
Feminist Lens: The Importance of Process.
Afilia, Vol. 18, No. 1, pp. 8-20.
CDSS, California Department of Social Services
Accessed online, October 23, 2013:
www.cdss.ca.gov/refugeeprogram/res/pdf/
Arrivals/Arrivals2013_todate_(3).pdf
CHAVEZ, Leo R.
[1992] Shadowed Lives: Undocumented
Immigrants in American Society. Belmont,
California: Wadsworth.
CLOVER, Darlene E.
Out of the Dark Room: Participatory
Photography as a Critical, Imaginative, and
Public Aesthetic Practice of Transformative
Education. Journal of Transformative Education,
Vol. 4 No. 3, pp. 275-290.
COLLIER, John Jr. - COLLIER, Malcolm
[1967] Photography As a Research Method. Albuquerque: University of New Mexico Press.
COX, Greg - JACOB Dianne - SLATER-PRICE, Pam Ron Roberts & HORN, Bill
Refugee Employment Services Plan. County of
San Diego: Health and Human Services Agency.
DA SILVA, Olivia - PINK, Sarah
In the Net: Anthropology and Photography. In:
Working images. Sarah Pink, Lászlo Kürti & Ana
Isabel Afonso (eds.), pp. 156-165.
London: Routledge.
EASTMOND, Marita
Stories as Lived Experience: Narratives in Forced
Migration Research. Journal of Refugee Studies,
Vol. 20, No. 2, pp. 248-264.
EDWARDS, Elisabeth
Beyond the Boundary: A Consideration of the
Expressive in Photography and Anthropology.
In: Rethinking the Visual. Marcus Banks &
Howard Morphy (eds.), pp. 53-80. New Haven
& London: Yale University Press.
EWALD, Wendy
Portraits and dreams: Photographs and stories
by children of the Appalachians. New York:
Writers and Readers.
FAIREY, Tiffany
Whose Pictures Are These? Re-framing the promise of participatory photography. PhD thesis, Department of Sociology, Goldsmiths, University of London.
FREIRE, Paulo
[1970] Pedagogy of the Oppressed.
London & New York: Continuum.
FROHMANN, Lisa
The Framing Safety Project: Photographs and
Narratives by Battered Women. Violence
Against Women, Vol. 11 No. 11, pp. 1396-1419.
GODDEN, Rob
Participatory photography - Jack of all
trades, master of none? Accessed online,
March 25, 2014: therightsexposureproject.com/
/08/05/participatory-photography-
--jack-of-all-trades-master-of-none/
GOOD, Byron
The Narrative Representation of Illness. In:
Medicine, Rationality and Experince: An
Anthropological Perspective. Pp. 135-165.
Cambridge: Cambridge University Press.
GOOD, Byron - DEL VECCHIO GOOD, Mary-Jo
In the Subjunctive Mode: Epilepsy Narratives
in Turkey. Social Science Medicine, Vol. 38, No.
, pp. 835-842.
GREEN & KLOOS
Facilitating Youth Participation in a Context of
Forced Migration: A Photovoice Project in
Northern Uganda. Journal of Refugee Studies,
Vol. 22, No. 4, pp. 460-482.
GUERRERO, Alba L. - TINKLER, Tessa
Refugee and Displaced Youth Negotiating
Imagined and Lived Identities in a
Photography-based Educational Project in the
United States and Columbia. Anthropology &
Education Quarterly, Vol. 41, Issue 1, pp.55-74.
HARRISON, Barbara
Photographic Visions and Narrative Inquiry.
Narrative Inquiry, Vol. 12, No. 1, pp. 87-111.
HOUSEN, Abigail C.
-2002 Aesthetic Thought, Critical Thinking and
Transfer. Arts and Learning Research Journal,
Vol. 18, No. 1, pp. 99-131.
HUBBARD, Jim
Shooting back: A photographic view of life by
homeless children. San Francisco: Chronicle.
Everyone Is A Photographer. Accessed online,
October 7, 2014:
www.shootingback.net/wp-content/articles/
Everyone_Is_A_Photographer.pdf
Shooting Back: Photographic Empowerment
and Participatory Photography. Accessed online,
October 21, 2004: old.culturalagents.org/int/
programs/pdf/Hubbard%20-%20Shooting%20
Back.pdf
KIA-KEATING, Meryam
Participatory photography and school/
community-based youth participatory
photgraphy programs. In: Handbook of Positive
Psychology in the Schools. R. Gilman, E. S.
Huebner, & M. Furlong (eds.), pp. 383-397,
New York: Taylor & Francis.
MCBRIEN, Jody Lynn - DAY, Rebecca
From there to here: Using photography to explore
perspectives of resettled youth. International
Journal of Child, Youth and Family Studies,
Vol. 3, No. 4.1, pp. 546-568.
MJAALAND, Thera
Saleni, fotografer meg! Om sammenhenger
mellom fotografisk representasjon og forståelse
av personen i Tigray, Etiopia. Norsk
Antropologisk Tidsskrift, Vol. 17, No. 1, pp.
-47.
Evocative Encounters: An Exploration of Artistic
Practice as a Visual Research Method. Visual
Anthropology, Vol. 22, No 5, pp. 393-411.
NEIMAN, Amy - SOH Eunice, SUTAN, Parisa
Karen Cultural Profile. ethnomed.org/culture/
karen/karen-cultural-profile
(Accessed October 7, 2014)
OCHS, Elinor - CAPPS, Lisa
Narrating The Self. Annual Review of
Anthropology, Vol. 25, pp. 19-43.
PHOTOVOICE
Accessed online, October 7, 2014:
www.photovoice.org
PINK, Sarah
[2001] Ethnographic Photography and Printed Text. In: Doing Visual Anthropology,
pp. 146-168. London: SAGE.
PRINS, Esther
Participatory photography: A tool for
empowerment or surveillance? Action Research,
Vol. 8, No. 4, pp. 426-443.
PURCEL, Rod
Images for change: community development,
community arts and photography. Community
Development Journal, Vol. 44, No 1, pp. 111-122.
RAMIREZ, Marcela - Matthews, Julie
Living in the NOW: young people from refugee
backgrounds pursuing respect, risk and
fun. Journal of Youth Studies, Vol. 11, No. 1,
pp. 83-92.
ROSENBLUM, Barbara
Photographers at Work: A Sociology of
Photographic Styles. New York: Holmes
& Meyer.
RUBY, Jay
Visual Anthropology. In: Encyclopedia of
Cultural Anthropology vol. 4. David Levinson
and Melvin Ember (ed.), pp. 1345-1351.
New York: Henry Holt and Company.
SINGHAL, Arvind - LYNN, Harter M. - KETAN, Chitnis,
DEVANDRA, Sharma
Participatory Photography as Theory, Method
and Praxis: Analyzing an Entertainment-
Education Project in India. Critical Arts, Vol. 21,
No. 1, pp. 212-227.
SONTAG, Susan
[1973] On Photography. New York:
Rosetta Books.
STRENG, J. Matt - RHODES, Scott D. - AYALA,
Guadalupe X. - ENG, Eugenia - ARCEO, Ramiro
PHIPPS, Selena
Realidad Latina: Latino adolescents, their
school, and a university use photovoice
to examine and address the influence of
immigration. Journal Of Interprofessional
Care, Vol. 18, No. 4, pp. 403-415.
VTS, Visual Thinking Strategies
vtshome.org/what-is-vts
(Accessed September 21, 2014)
WACQUANT, Loïc
Following Pierre Bourdieu into the field.
Ethnography, Vol. 5, No. 4, pp. 387-414.
WANG, Caroline C. - CASH, Jennifer L. - POWERS, Lisa S.
Who Knows the Streets as Well as the Homeless?
Promoting Personal and Community Action
through Photovoice. Health Promotion Practice,
Vol. 1, No. 1, pp. 81-89.
WANG, Caroline C. - REDWOOD-JONES, Yanique A.
Photovoice Ethics: Perspectives from Flint
Photovoice. Health Education & Behavior,
Vol. 28, No. 5, pp. 560-572.
WHYTE, Susan Reynolds
Subjectivity and Subjunctivity. Hoping for
Health in Eastern Uganda. In: Postcolonial
Subjectivities in Africa. Richard Werbner (red.),
pp. 171-190. London: Zed Books
Uncertain Undertakings - Practicing Health Care
in the Subjunctive Mood. In: Managing
Uncertainty: Ethnographic Studies of Illness
Risk and the Struggle for Control. Vibeke Steffen, Richard Jenkins & Hanne Jessen (eds.),
pp. 245-264. Copenhagen: Museum Tusculanum
Press, University of Copenhagen.
WILSON, Nance - DASHO, Stefan - MARTIN, Anna C.
WALLERSTEIN, Nina - WANG ,Caroline C. - MINKLER, Meredith
Engaging young adolescents in social action
through photovoice: The youth empowerment
strategies (YES!) project. The Journal of Early
Adolescence, Vol. 27, No. 2, pp. 241- 261.
YANG, Kyung-Hwa
Participatory photography: can it help adult
learners develop agency? International Journal
of Lifelong Education, Vol. 33, No. 2, pp. 233-24.
YENAWINE, Phillip
[1997] Thoughts on Visual Literacy. In:
Handbook of Research on Teaching Literacy
Through the Communicative and Visual Arts.
James Flood, Shirley Brice Heath & Diane Lapp
(eds.), pp. 845-846. Mahwah, New Jersey:
Lawrence Erlbaum Associates, Inc. Publishers.
YOHANI, Sophie C.
Creating an Ecology of Hope: Arts-based
Interventions with Refugee Kids.
Child Adolescent Social Work Journal, 25,
No. 4, pp. 309-323.
ZAKIRA
Accessed online, October 7: www.zakira.org
Refbacks
There are currently no refbacks.
ISSN Print 2499-9288
ISSN Online 2281-1605
Publisher Edizioni Museo Pasqualino
Patronage University of Basilicata, Italy
Web Salvo Leo
Periodico registrato presso il Tribunale di Palermo con numero di registrazione 1/2023