Open Access

Subscription Access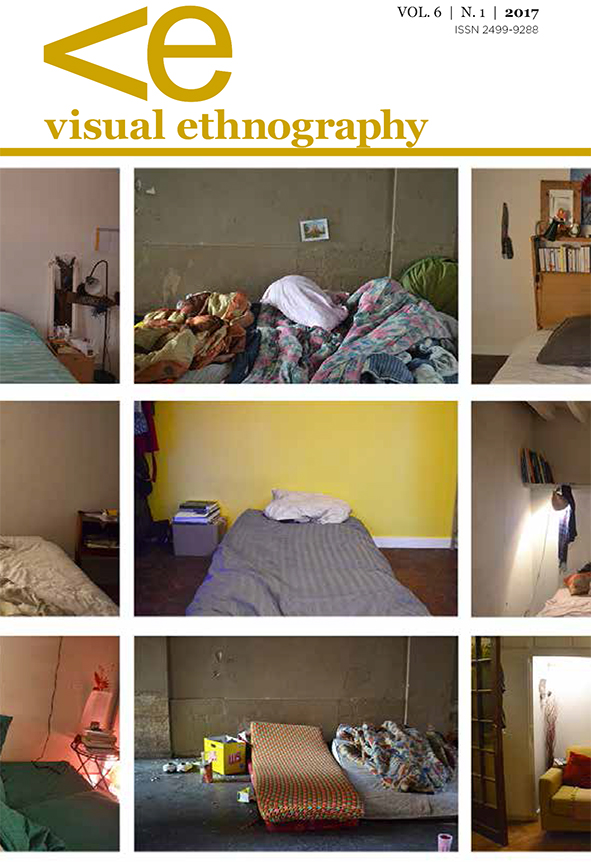 Visual Ethnography: Tools, Archives and Research Methods. Introduction
Abstract
In this issue, we explore the use of visual materials in social sciences through experimental, creative and critical methodologies. Over the last twenty years, visual ethnography has transformed the way social scientists create and define knowledge. Therefore, we propose a series of articles in order to explore a variety of methodological and theoretical practices "in the field".
Keywords
visual, ethnography, research methods, methodology, phenomenology, participatory
Full Text:
PDF

References
ALFONSO, Ana Isabel - KURTI, Laszlo - PINK, Sarah
Working Images: Visual Research and
Representation in Ethnogra
phy. London;
New York: Routledge.
BANKS, Marcus - MORPHY, Howard
Rethinking Visual Anthropology. 1st publ. in
paperback. New Haven: Yale Univ. Press.
BARBASH, Ilisa - CASTAING-TAYLOR, Lucien
Cross-Cultural Filmmaking: A Handbook for
Making Documentary and Ethnographic Films
and Videos. Berkeley: University of California
Press.
BATESON, Gregory - MEAD, Margaret.
Balinese Character: A Photographic Analysis.
New York Academy of Sciences.
BECKER, Howard S.
"Visual Evidence: A Seventh Man, the Specified
Generalization, and the Work of the Reader."
Visual Studies 17 (1): 3-11.
COLLIER, John - COLLIER, Malcolm
Visual Anthropology: Photography As a
Research Method. Albuquerque: University of
New Mexico Press.
COX, Rupert - IRVING, Andrew - WRIGHT, Christopher 2015 Beyond Text: Critical Practices and Sensory
Anthropology.
Manchester: Manchester University Press.
FATTAL, Alex
a "Participatory Realism: Photographing the
Precarity and Resilience of Childhood in South
Africa." Transition, no. 121: 40.
b Shooting Cameras for Peace: Youth,
Photography, and the Colombian Armed
Conflict. (Manuscript submitted to publication).
FREIRE, Paulo
Pedagogia del oprimido.
Madrid: Biblioteca Nueva.
GRIMSHAW, Anna - RAVETZ, Amanda
Visualizing Anthropology. Bristol, UK; Portland
OR: Intellect. www.public.eblib.com/choice/
publicfullrecord.aspx?p=283018.
HARPER, Douglas.
"An Argument for Visual Sociology." Image-
Based Research: A Sourcebook for Qualitative
Researchers, 24-41.
Visual Sociology. Abingdon, Oxon; New York,
NY: Routledge.
HUBBARD, Jim,
Shooting Back: A Photographic View of Life by
Homeless Children. San Francisco:
Chronicle Books.
IRVING, Andrew.
"Ethnography, Art, and Death." Journal of the
Royal Anthropological Institute 13 (1): 185 -208.
"Aux confins de la science." ethnographiques.org,
no. Numéro 30 - Mondes ethnographiques.
www.ethnographiques.org/2015/Irving
MACDOUGALL, David.
"The Visual in Anthropology."
In Rethinking Visual Anthropology, edited by
Marcus Banks and Howard Morphy, 276-95.
New Haven: Yale Univ. Press.
The Corporeal Image - Film, Ethnography, and
the Senses. Princeton, N.J.: Princeton University
Press.
MCINTYRE, Alice
Participatory Action Research. Qualitative
Research Methods 52. Los Angeles:
Sage Publications.
PACKARD, Josh
I'm Gonna Show You What It's Really like out
Here: The Power and Limitation of Participatory
Visual Methods. Visual Studies 23 (1): 63-77.
PINK, Sarah
The Future of Visual Anthropology: Engaging
the Senses. London ; New York: Routledge.
Doing Visual Ethnography. 3rd Revised edition.
Los Angeles: SAGE Publications Ltd.
PRINS, E
"Participatory Photography: A Tool for
Empowerment or Surveillance?"
Action Research 8 (4): 426-43.
doi:10.1177/1476750310374502.
PROSSER, Jon,
Image-Based Research: A Sourcebook for
Qualitative Researchers. London; Bristol,
PA: Falmer Press.
ROSE, Gillian.
Visual Methodologies: An Introduction to
Interpreting Visual Objects. London;
Thousand Oaks: SAGE.
ROUCH, Jean
"La Caméra et Les Hommes." In Pour Une
Anthropologie Visuelle, edited by Claudine De
France, 53-71. Cahiers de L'homme, N.S., 19.
Paris: Mouton.
RUBY, Jay.
Picturing Culture: Explorations of Film and
Anthropology: Explorations in Film and
Anthropology. New. Chicago: Univ of Chicago Pr.
STOLLER, Paul
Sensuous Scholarship. Contemporary
Ethnography. Philadelphia: University of
Pennsylvania Press.
WAGNER, Jon.
Images of Information: Still Photography in the
Social Sciences. (ed.). Beverly Hills, CA: SAGE.
WANG, Caroline - BURRIS, Mary Ann.
"Photovoice: Concept, Methodology, and Use
for Participatory Needs Assessment."
Health Education & Behavior 24 (3): 369-87.
DOI:
http://dx.doi.org/10.12835/ve2017.1-0073
Refbacks
There are currently no refbacks.
ISSN Print 2499-9288
ISSN Online 2281-1605
Publisher Edizioni Museo Pasqualino
Patronage University of Basilicata, Italy
Web Salvo Leo
Periodico registrato presso il Tribunale di Palermo con numero di registrazione 1/2023